Facial Feminization Surgery
Facial Feminization Surgery (FFS) is a combination of surgical procedures aimed at reducing what we call 'masculine facial features', giving the face a softer and more feminine look.
Many trans women feel insecure and anxious about their external appearance not matching their internal state of being. Facial Feminization Surgery can help them live in confidence as the woman they were all along.
What is Facial Feminization Surgery (FFS)?
FFS Surgery is a combination of surgical procedures through which the masculine facial features are reduced to give your face a feminine look. FFS is applied to both bone and the soft upper tissue covering the bone. Which procedures are needed depends on what you wish to see.
These are all the procedures that can form a part of facial feminization surgery:
What can be achieved with FFS surgery?
One can achieve major changes. To show you an example, Freya underwent the following procedures: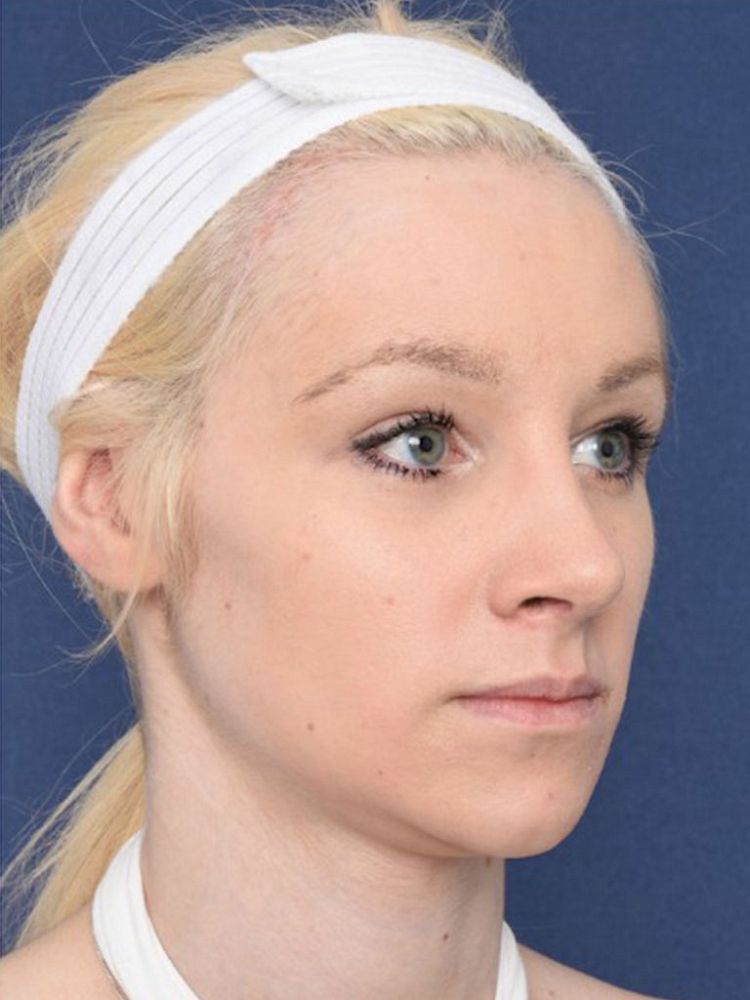 Before
After
Do I need Facial Feminization Surgery?
FFS can be a solution if you are:
A trans woman who cannot find a way to be comfortable looking into the mirror.
A trans woman who feels like certain facial features cause misgendering and this bothers you.
Unhappy with some facial features and you want to soften them.
Your "passing" can improve with the surgery. It can help you live in confidence as the woman you are without having to worry about being misgendered. This was proven in a study in which 118 of our patients analyzed their feelings around their passing before and after their FFS surgery.
The operation can help individuals express who they truly are and, as a result, they will feel comfortable with their own appearance. This often eventually results in greater levels of self-confidence and fewer incidences of problems that have been present within the LGBTQI+ community such as social anxiety.
No one could explain better than these former FFS surgery patients:
Quote by Munroe Bergdorf, former patient at 2pass Clinic:

'There was a point where I was afraid to leave the house. I couldn't go out in the world, and that's no way to live. That's when facial feminization really became crucial to me.

I just wanted to live a life where I wasn't affected by gender dysphoria to the point where I couldn't concentrate on my job or be vulnerable in sexual situations. I wanted freedom.

Now, I feel the best I ever have. I can leave the house without makeup on and not feel like I'm going to be attacked. I didn't realize how dysmorphic I was about my body until I got that surgery. I didn't know how much I was holding back in regards to intimacy, either. If you can't feel a connection with your body, how can you form a connection with somebody else? Getting closer to how I saw myself allowed me to get closer to other people, too.'

— Munroe Bergdorf (by Refinery29)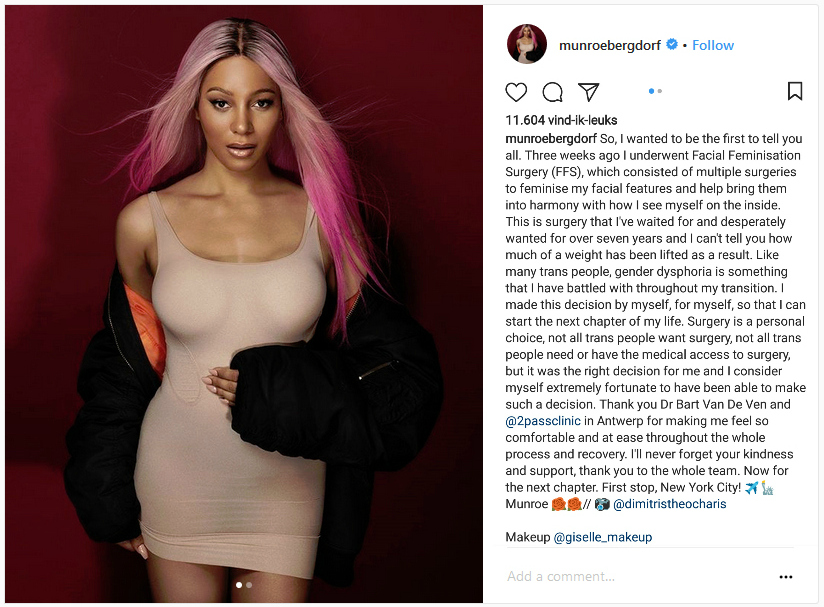 Instagram post ofMunroe Bergdorf after her ffs surgery at 2pass Clinic.
Your road to FFS in 3 steps
When you're ready: book your FFS surgery
Done! We'll take it from here.
What does FFS surgery cost?
When it comes to facial feminization surgery there is no 'one size fits all' answer. The reason is everybody has their own unique facial features and their own specific desires. The amount and duration of the procedures you need or want influence the price for FFS surgery. Very roughly speaking, Facial Feminization Surgery costs range from 5.000 to 60.000 euros. At 2pass Clinic, prices range from 5.000 to 30.000 euro depending on the procedures you need. To give you a general idea we wrote an article on the average cost of facial feminization surgery
Is FFS covered by the insurance?
Although we are convinced FFS is a medical necessity for many transwomen, in most cases, it is still extremely difficult to get your FFS reimbursed by your insurance. Although we do hear of individual cases that stood up against their insurance and after a long legal struggle have got their right. We try to collect these stories on the following page on FFS and insurance coverage.
What can make a face look masculine?
There are 6 key differences in facial features that can make a face look masculine and that can be addressed by facial feminization surgery.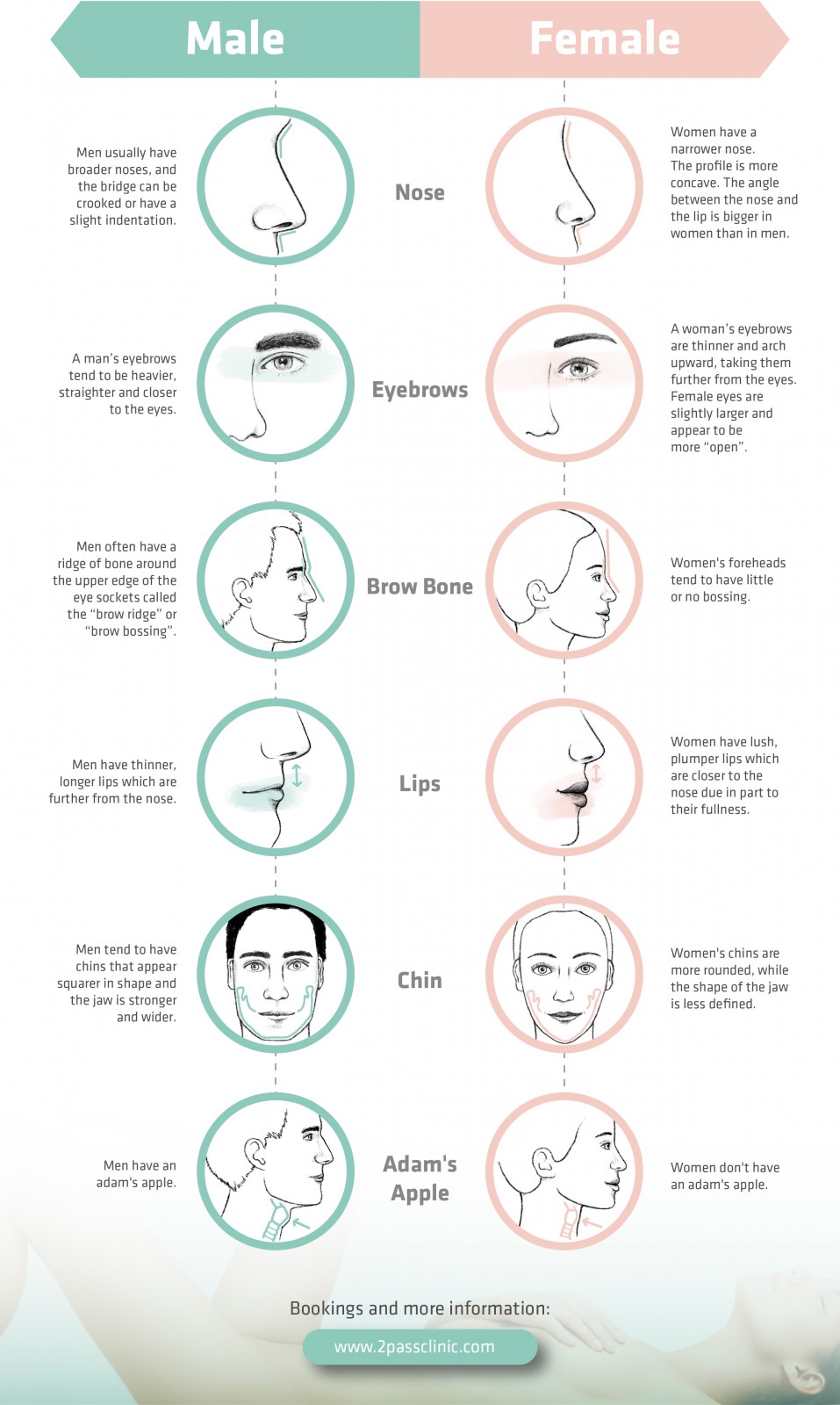 Your stay at 2pass Clinic
We are expecting you one day before your facial feminization surgery, and you'll most likely stay for a week. Our patient coordinator will welcome you and give you a tour of our guesthouse. And Petra, our resident, will be on hand to help you 24/7. You will receive all the care you need to recover in our own little home away from home.
Petra was once one of Dr Bart van de Ven's patients herself, so she knows exactly what kind of help you will need. Every day she makes a delicious breakfast and fresh meals packed with nutritious ingredients to help you get back on your feet.
What will my recovery after FFS be like?
After your FFS surgery, you will stay at the guesthouse in the clinic for a week so that you can recover and get back on your feet. We will help you with your post-op instructions whenever you so require. During these first days after your operation, we will take care of your every need.
By the time you are ready to return home, you will no longer require any extra care. Should there be any complications following your facial feminization surgery, we will, of course, provide the necessary treatment to rectify the situation – without additional fees for the surgical procedure (only the costs have to be covered).
Things you can expect during your recovery
Numbness
Tightness­
Swelling and bruising
Difficulties breathing through the nose
Trouble eating
Click here for a detailed description of the recovery after your FFS surgery and aftercare after FFS.
What are the risks of Facial Feminization Surgery?
If there are any complications, they generally are:
Infection.
Each procedure has its own specific risks. Check out the page of the procedure you're interested in to find more information.
Feeling down or depressed—surgery is quite impactful, and it appears that many people go through a post-surgical depression about three weeks after their surgery. Don't worry, you are not alone. We suggest seeking some additional support in case it's all a bit overwhelming.
What are the pros and cons of FFS surgery?
Pros

A more feminine face;
Strengthens social acceptance and integration as a woman, aka 'passing'.
Positive effect on self-image and self-esteem because the feminine face confirms one's gender identity.
After two to five weeks you'll already be back at work.

Cons

The swelling right after the surgery may be scary, but it goes down really fast, don't worry!
You may temporarily experience numbness where the surgeon worked on bone structure.
A full recovery period can take four months up to one year. The recovery process takes longer in some than in others. Patience and trust are required.
Frequently asked questions
What does this procedure cost?

How would the clinic deal with an emergency if serious complications were to arise during the procedure?

If a patient needs hospitalization we would transfer her to the Middelheim hospital which is located 8 minutes or 3,5 km away from our clinic. This occurred merely 2 times in more than 2000 surgeries. We should always try to make your health insurance pay for this as most likely it is due to a pre-existing physical disorder. But don't worry, there will never be the risk of extra costs for you. We will pay the hospital bill if there is no other way. Such complications are so rare that we can make this promise.

When can I judge the final result?

After three weeks you will look presentable, but it takes at least 4 months to get a good impression of the final result. Sometimes after chin and jaw work it can take up to a year for the swelling to completely disappear. Scars take about a year to fully mature. So it might take up to a year (or longer) before you will be able to see the actual final result.

What type of care is needed after the treatment? Will I require check-ups in my own country?

All care is provided at our clinic. In general, no extra care is needed in your home country. A check-up with Dr Bart will take place after 4 months, and can be held in any city where Dr Bart van de Ven provides consultations.

What happens if there are complications after the procedure and is this covered?

We will correct the complication if surgically possible, without charging any surgical fees. Hospital, material and traveling costs are for the expense of the patient.

How long is the waiting time to book an operation?

The average waiting time for an operation at the moment is 3 months. For big surgeries, it can be up to six months, for small surgeries, you might be looking at less than a month. You can check availability through your personal account. You will get access to your personal account after you've received your surgery proposal.

Is FFS painful?

There is no univocal answer to this. It depends entirely on the pain threshold of the patient, and the procedures that were performed. Most people report being uncomfortable rather than being in pain. You can find an extensive reply to this question right here. 

Can I lose feeling (numbness) permanently in some areas following FFS surgery?

Some temporary numbness in any of the areas where bone work is done is an absolute certainty. That could include the scalp, forehead, chin, jaw or even cheek areas depending on where the surgery has been done. This happens because the soft tissue is detached from the bony area. Several thousand minor nerves are severed, and it will obviously take some while for those areas to heal. Up to 18 months of recovery time is not unusual, but it usually takes less time. You may not regain the same level of feeling as before.

I am interested in a surgery, in which country do you perform FFS and BFS?

Dr Bart van de Ven (FFS) travels to different European cities for consultations twice a month, but surgery is only performed in Antwerp, Belgium. Dr Maarten Doornaert (BFS) will occasionally also travel for consultations, but also only performs surgery in Antwerp.

How long do you need to stay in the hospital after an FFS?

When you've had an FFS you will most likely stay at our guesthouse for a week to recover. You arrive one day before your surgery, and then stay for seven more days. So if you'd arrive on Monday, you would be leaving again on Monday.

What if there are post-op complications?

It doesn't happen often, but should there be a complication during your stay, you can notify Petra (our permanent resident) or one of the night nurses and they will get in contact with the surgeon in case they can't help you themselves. There will always be someone by your side. When you leave our clinic, you will receive the phone number of the surgeon himself in case a complication were to arise later on.

Do the pictures sent for the online FFS quote/simulation have to be taken with a professional camera?

If you have a professional camera, definitely use it. The better the quality, the better the simulation can be. If you don't own a professional camera, don't worry. Just make sure you don't take the pictures like you would take selfies. Prop up your camera against something, use a tripod, or even better: have someone else help you take your pictures.

How long will it take for the sensation in my face to return back to "normal"? What can be done to help?

Facial stiffness and a lack of sensitivity are both common factors after a Facial Feminization Surgery. Recovery time is different from patient to patient, but it can be expected that one will recover to "normal" parameters within six months to two years.

Is it safe to perform an MRI after FFS?

Yes, we use very small titanium screws and plates which are never a problem for an MRI. Also the bone cement does not contain metal.

I'm a bit overweight. What is the maximum BMI for elective surgery?

In principle, the maximum BMI is 30. If your BMI is between 30 and 35 but you are in good health, your case is considered on an individual basis by our anesthesiologist. You will be asked to fill out the anesthesiology form in your personal account and we will also need a Cardiopulmonary Exercise Test (CPET). If your BMI is higher then 35 we don't operate.

I only speak English. Will they understand me in Belgium?

In Belgium as good as everyone can speak English. Hence our entire staff speaks English (and Dutch, French, German,...) as well, so you will always be able to communicate whatever you feel or need!

Can I get this surgery if I'm a cis woman?

Yes, of course. We perform Facial Feminization Surgery on all women. Every woman is welcome at our clinic!

When should I stop my HRT treatment?

For FFS

You can continue your HRT treatment before, during and after your FFS. We prefer you to continue taking your hormones because FFS is emotionally already perturbing enough without messing with your hormone balance.

For BFS

Only for implant surgery of the buttock and hips we ask to stop one week before the surgery. The day after surgery you can continue your HRT treatment. This because this type of surgery implies some immobilisation (obliged) after the surgery. In this case the risk for blood clots is higher.

Which language does the FFS surgeon speak?

Dr Bart van de Ven speaks Dutch, English and German!

Can I get in contact with one of your former patients?

Yes, you can! Nearly each before-and-after page mentions the e-mail address of the patient. Feel free to contact them and ask anything you want to know!

Should I wait with FFS until I have taken hormones long enough?

The hormones will have their effect on the soft tissues of your face: the fat will redistribute and the muscles will atrophy a bit. The hair on the scalp will become denser and thicker (but facial hair won't diminish). All this will make your face look softer and more feminine. Dr van de Ven will try to make your face as feminine as possible and there is no negative effect to your face becoming even more feminine after your FFS due to the hormones. Those last changes will be very subtle. Therefore Dr van de Ven does not see a reason to postpone FFS if you have only started taking hormones recently.

Sometimes I get asked to model for a photoshoot. How long should I wait to book one after my FFS?

That is a very difficult one. It depends very much upon your healing and we can't give you any guarantee about how long it takes before you look good enough for a photoshoot. It could be 4 months, but it could also be a year. Of course, it also depends on the amount of work that has been done, but everyone heals very differently. There is no way to predict how fast you will recover.

When can I have a sauna again after my FFS?

You will have to wait for 4 weeks, then you are free to have a sauna!

How long does it take for the final result to be visible and the bruises to disappear completely?

Recovery looks different for every patient, but bruising usually disappears after two to four weeks. The final result can be visible after a few months, but it may also take longer than a year. All information on recovering from FFS can be found on our recovery page.

Can I combine facial surgery and breast surgery?

Breast and facial surgery can be combined in the same week, not on the same day. . In that case, the operation of Dr van de Ven should take place on Thursday, the breast augmentation on Tuesday. Be aware you should be in Antwerp for the preoperative consultation on Monday around noon in this case.

Can I combine hip recontouring with facial surgery?

Unfortunately, that's not possible.

Do I need to remove facial hair when coming to my FFS consultation?

Yes, it is highly recommended to remove all facial hair on the day of the consultation (shaving). Dr Bart van de Ven will take pictures of your face so he can make a simulation of what your face could look like after Facial Feminization Surgery. This isn't possible when there is facial hair.
RealSelf Patient Reviews of Bart van de Ven, MD
We are doing our very best to keep this information up-to-date. In case you see anything that no longer seems accurate, or in case you have a question, please fill out the form below!