Earlobe reduction
If the earlobe is too big and saggy, an incision can be made in its lower edge and then sewn back together to change the shape. This can be done during the rest of your Facial Feminization Surgery.
Procedure
An earlobe reduction can easily be done in local anesthesia. When done in combination with other procedures, which is usual in our clinic, it will be done in general anesthesia.
The design of the excision is made on the ear using blue ink.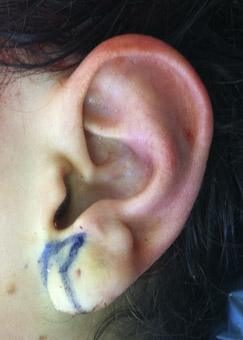 The local anesthetic is administered;
The excision is done after which the wound is closed in layers.
No bandage is needed. If non-absorbable sutures were used they have to be removed after 6 days.
Recovery
It takes about 1 year for the scar to heal, but the result will be visible instantly.
We are doing our very best to keep this information up-to-date. In case you see anything that no longer seems accurate, or in case you have a question, please fill out the form below!