Transgender Hair Transplant
The shape and position of male and female hairlines are an important gender trait. Although male pattern hair loss is unwanted for most men, it can be particularly distressing for trans women since it serves as a physical sign of an undesired male phenotype. A receded hairline or a bald spot in the crown may pose a significant issue when completing a male to female appearance.
Certainly, hairpieces or wigs can be worn to cover this male pattern baldness, but these "solutions" are simply not the permanent solution most people want. Most trans women want their own growing, real hair in a fashion and style that aligns with their desired gender and taste.
Difference between male and female hairlines
Understanding the difference between male and female hairlines is of critical importance in hair transplants for both women and trans women as this is necessary to create a natural appearance.
The principle of hair transplantation
Simply put, a hair transplant takes hair from an area where you have a sufficient amount of it, and transfers it to an area where you don't have enough of it. It's typically taken from the back of your head but can also be taken from other parts of your body.
The newly transplanted hair will shed after some weeks, but the transplanted hair roots will grow new hair within 3-6 months.
The technique we use at 2pass Clinic is the no-shave follicular unit excision (FUE).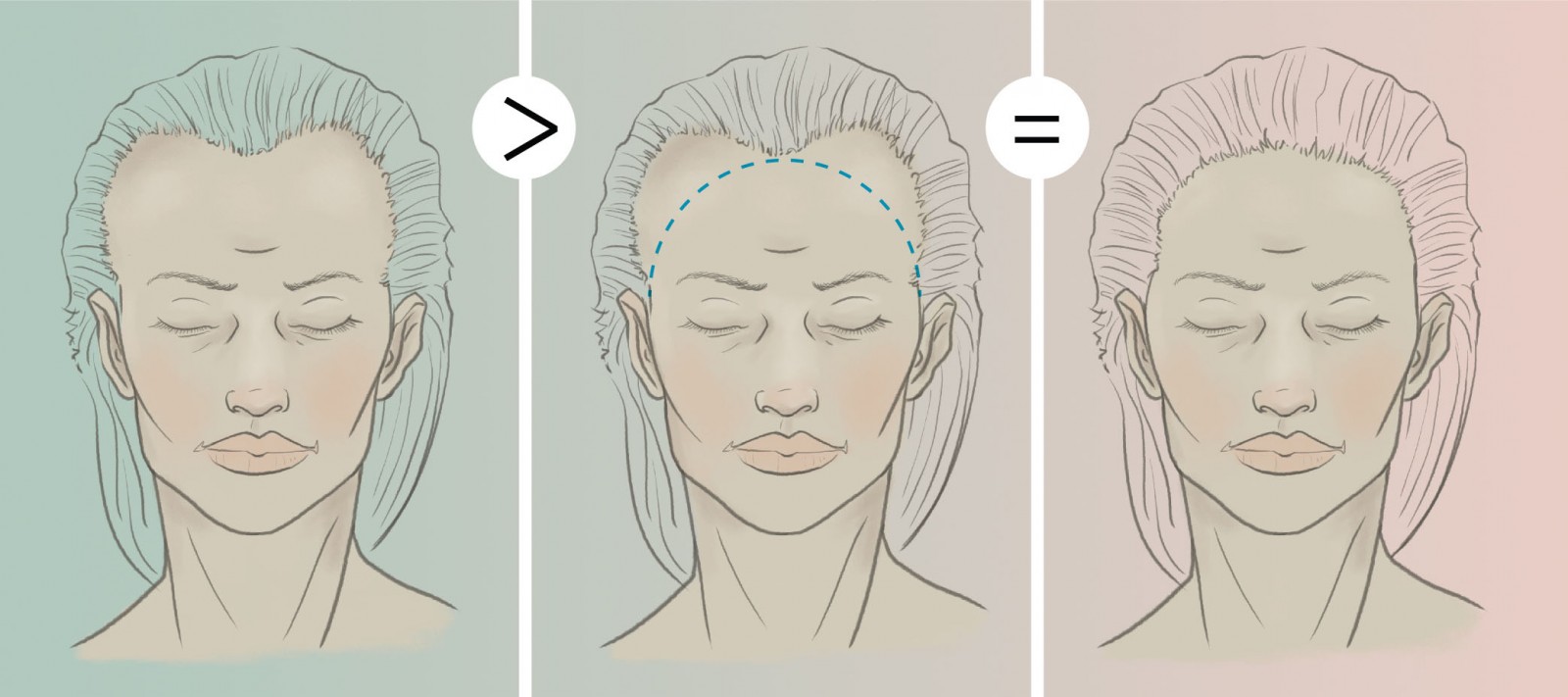 Feminizing the hairline with hair transplants.
How many hair grafts do I need?
The average male needs 2,000 to 3,000 grafts and the average female needs 300 to 500 grafts. Each graft can contain anywhere from 1 to 4 hairs. Covering a quarter-sized bald spot requires a few hundred grafts while a larger bald area closer to the size of an open hand may require a few thousand. The only way to accurately determine how many follicles you need to achieve your goals is to meet with a specialist for a consultation and discuss your goals 1-on-1.
What is the cost of hair transplantation?
Transgender hair restoration needs will vary greatly from patient to patient, so, therefore, it is difficult to provide a generalized cost of transgender hair transplants. The cost will be determined during your consultation.
When will I see the results from a hair transplant?
The results will begin to be apparent 60 days after the procedure. About 14 to 21 days after your procedure, your newly transplanted hairs will begin to fall out, but don't fear, this is normal. The roots of the hairs are still located beneath the skin, and new strong hairs will begin to grow from them in the coming months. About 6 months after your surgery, about 70% of the follicles will have sprung new hairs. The remaining hairs could take up to a year to fully manifest.
Is hair transplant surgery painful?
A hair transplant is not a painful experience according to most patients. Patients are always administered local anaesthetics and other medications to ease the discomfort make it a comfortable and relaxing experience. Most patients report the procedure to be pain-free as well as the recovery.
How long is the recovery from a Hair Transplant?
The morning following the transplant we'll wash your hair for the first time, give you further instructions, and you will be able to return home. You can also decide to return home immediately after your hair transplant. You could return to work the next day, but many people prefer to take a few days off to allow for complete recovery.
Recovering after your hair restoration surgery is relatively quick and easy compared to most other cosmetic surgeries. Following surgery, you will walk out with no bandages and your hair will be styled normally. Within 24 hours, you can resume routine activities, although strenuous physical activity should be avoided for about a week. This to avoid the chance of injury or increase the risk of bleeding, and to give your body the rest it needs to recover. While healing, a few tiny scabs may form and you may experience some minor swelling in transplanted areas. If scabs form, they usually disappear within 7 days.
You'll likely feel pain or soreness at the transplant site as well as in the area where hair was taken from. For the next few days, we may prescribe pain medication such as ibuprofen.
Aftercare tips
Wait a few days after the surgery to wash your hair. Only use mild shampoos for the first few weeks.
You should be able to return to work or normal activities in about 3 days.
Don't press a brush or comb down over the new grafts for about 3 weeks.
Don't wear any hats or pullover shirts and jackets until your doctor says it's OK.
Don't exercise for about a week.
Don't worry if some hairs fall out. This is part of the process. The transplanted hair may not grow much or seamlessly match the hair around it for a few months.
Complications
What are the possible side effects of hair transplantation? The most common side effect is scarring. Some degree of scarring cannot be avoided with any procedure. FUE harvesting technique of grafts causes very small, round, and typically white scars in the patient's donor area where the grafts have been removed. With long hair, these are virtually undetectable.
Other potential side effects include:
Infections;
Crust or pus drainage around the surgical sites;
Scalp pain, itching, and swelling;
Inflammation of hair follicles (folliculitis);
Bleeding;
Losing sensation around the surgical sites;
Visible areas of hair that don't match the surrounding hair or are noticeably thinner;
Continuing to lose hair if your hair is still balding.
We are doing our very best to keep this information up-to-date. In case you see anything that no longer seems accurate, or in case you have a question, please fill out the form below!