Tracheal shave
A tracheal shave, also called Adam's apple reduction or chondrolaryngoplasty, aims at removing the Adam's apple of trans women. A prominent Adam's apple is a constant embarrassment for trans women. For this reason a tracheal shave is one of the most common surgical procedures for trans women. It is often performed stand-alone or in combination with other procedures of Facial Feminization Surgery. The surgeon reduces your cartilage in the throat to make the shape more feminine.
Gender of the trachea
If you compare the profile of a man's and a woman's neck, you can clearly see there is a 'bump' in the male profile; the Adam's apple. Because of the increase of testosterone levels in boys during adolescence, the cartilage of the masculine voice box will grow. The vocal folds (which are muscles) will also become thicker. This is why there is a voice change and why a man's voice will deepen as they are going through puberty.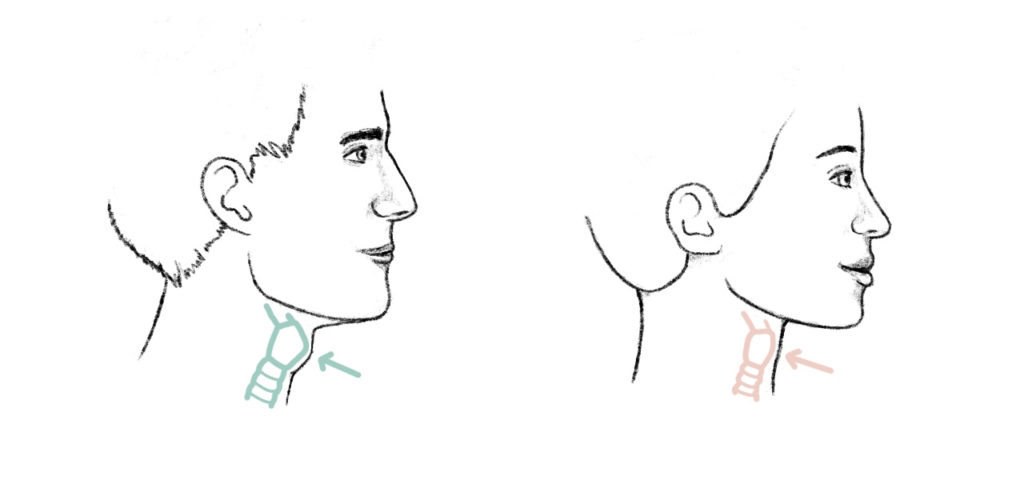 Difference between male and female tracheal area.
How to feminize the tracheal area?
You can have your Adam's apple removed by undergoing a tracheal shave, also called Adam's apple removal surgery.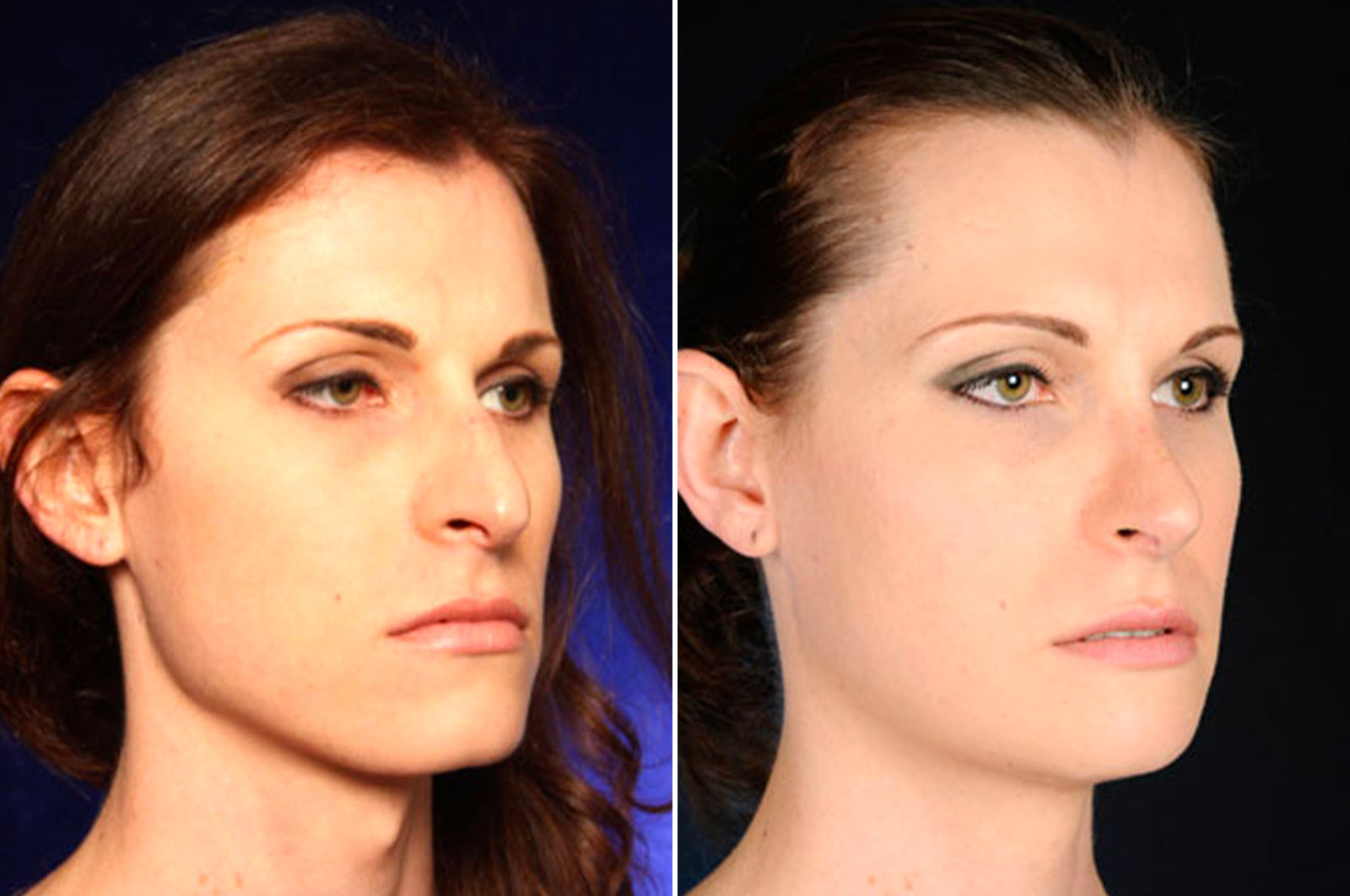 Note: A tracheal shave is not meant to permanently change the pitch of your voice. If you want to alter the pitch of your voice, a speech therapist can help you with voice feminization speech therapy. In some cases, voice cord surgery will be necessary, also known as voice feminization surgery. Below you can read about how to take care of your voice after a tracheal shave.
Procedure
A tracheal shave is a simple procedure. The tracheal cartilage is removed so that your Adam's apple no longer protrudes.
First we need to check how much cartilage can be removed from the larynx without damaging the vocal cords. These lie just below the Adam's apple.




During the operation, a needle is placed from the outside through the inside of the thyroid cartilage, right until where we want to remove the cartilage. The anesthesiologist then uses an endoscope to check whether or not the needle reaches the vocal cords. In other words, whether we can remove that much from the Adam's apple without damaging the vocal cords. This method is extremely accurate.

Adam's apple reduction surgery is often performed under general anaesthesia, in combination with other procedures. The technique takes approximately 30 minutes. If performed stand-alone local anaesthesia can be used.
An incision is made around 2 cm under the chin, if possible, hidden inside a crease below the chin area.

From there, a small tunnel is created to reach the thyroid cartilage. A year after the procedure the only thing you will be able to see is a narrow white line.
Incision location for a tracheal shave: in a natural crease where the chin meets the neck.




With a surgical scalpel, the prominence and the superior border is reduced, within anatomically safe parameters.

It is very important that a surgeon specialized in facial feminization surgery performs this procedure. A tracheal shave involves shaving off some of the cartilage which protects your vocal cords. Someone who has little or no experience with tracheal shaves can easily remove too much cartilage, which can lead to permanent damage to your voice. Or they might remove too little cartilage because they are overcautious, meaning that your Adam's apple is still visible.
Recovery
Frequently asked questions
What does this procedure cost?

What happens if there are complications after the procedure and is this covered?

We will correct the complication if surgically possible, without charging any surgical fees. Hospital, material and traveling costs are for the expense of the patient.

Can I get this surgery if I'm a cis woman?

Yes, of course. We perform Facial Feminization Surgery on all women. Every woman is welcome at our clinic!

How long does it take for the final result to be visible and the bruises to disappear completely?

Recovery looks different for every patient, but bruising usually disappears after two to four weeks. The final result can be visible after a few months, but it may also take longer than a year. All information on recovering from FFS can be found on our recovery page.

Could this procedure heighten the pitch of my voice to sound more feminine?

Typically how long is it after surgery to get your voice back to "normal"?

The vocal cords need about 2-3 weeks of recovery to make normal use of the voice possible. We cannot say when exactly it would be back to 100% if you use your voice extensively for professional reasons. This page contains useful information on voice recovery after a tracheal shave.

Will a tracheal shave compromise my voice feminization surgery?

How long does it take to recover fully and do physical activities/sport after an adam's apple reduction?

What will the scar be like after an Adams' apple reduction?

All incisions leave a small white line in the end. As this line is placed in a discrete spot (angle between neck and chin), it will be as good as invisible from most angles. After two weeks nobody should notice from a distance. After 1 year the scar will be completely healed (white).

How the swelling and the bruise of the tracheal shave looks after 2 weeks?

In general, you will hardly notice anything. But occasionally (1 out of every 50 patients) there is some postoperative bleeding, which needs about 6-8 weeks to completely dissolve.

Will reducing the adam's apple have any negative effects on my voice?

We plan a CT scan to know exactly where are the vocal cords and how much cartilage can be removed, to avoid negative effects on your voice. It is possible though that edema (swelling) of the vocal cords caused by irritation by the tube that was introduced by the anesthesiologist, or the surgery itself, makes the voice weak and/or coarse for a period of about 2 weeks. There is also something to be said for the effect of the structure of the voice box. The remaining cartilage must be strong enough. In this blog post, you can read in detail about the possible effects on your voice.

Should I have the tracheal shave or the voice feminization surgery first?

During surgery under general anesthesia (FFS, SRS, BFS), the patient needs to be intubated. That means a tube will be placed in between the vocal cords to ventilate the patient during surgery. The voice feminization surgery with the best long term results is the Wendler glottoplasty (the technique the Yeson Centre uses). A Wendler glottoplasty will reduce the space in between the vocal cords, which means it will be more difficult for the anesthesiologist to put a tube in between the vocal cords without damaging them. On the other hand, this should be no problem when done with care by an experienced anesthesiologist, with a small size tube.

So, in the end, it doesn't make a lot of difference: first the tracheal shave or the voice cord surgery. But doing the voice cord surgery at the end of your transition will make things easier for the anesthesiologist. It would also make your voice feminization surgeon sleep more soundly.

For more information, you can consult this blogpost on voice feminization surgery and tracheal shave.
We are doing our very best to keep this information up-to-date. In case you see anything that no longer seems accurate, or in case you have a question, please fill out the form below!