Live consultation
Book your appointment
These are the cities where you can find Dr Bart van de Ven:
Upcoming dates abroad
What can I expect during my FFS consultation?
What can you expect from your FFS consultation, and how should you prepare?
1 Preparing for your consultation
Most of you already have a clear image of what procedures you are interested in. If you don't have a clear idea yet, try to envision what you might want to tell the doctor. What do you like about your face, and what not? How do you feel about it, and why? If you know what your priorities are, this will be helpful for you and Dr. Bart to determine what the focus is going to be.
2 Meeting Dr. Bart van de Ven for the first time
After welcoming you into his office, Dr Bart's first question will be "What can I do for you?". He will take his time to talk to you about why you have come to us. He will also ask you what are your own ideas regarding your face and what FFS procedures you think you need.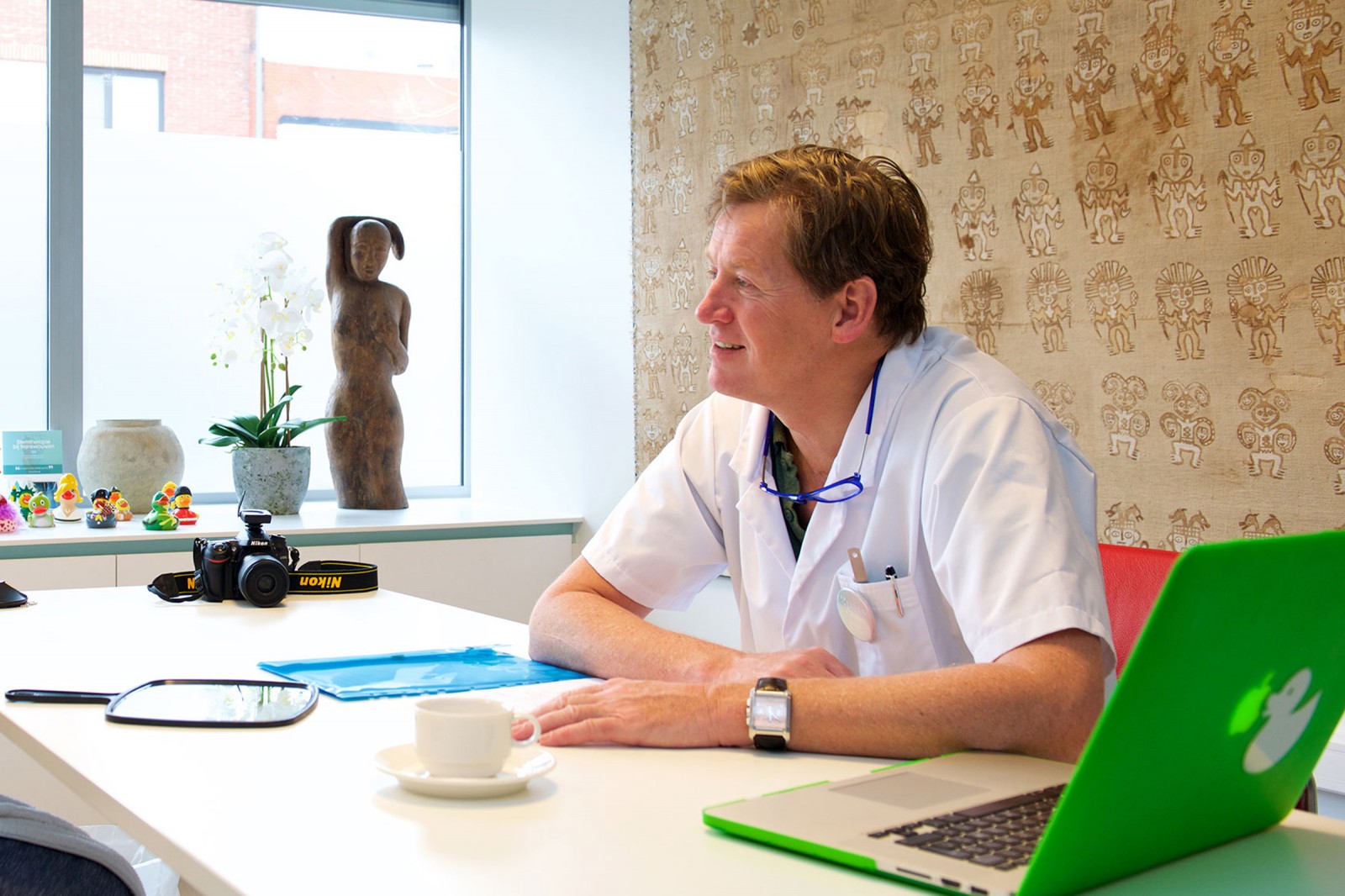 3 Discussing your procedures
After this initial orientation, Dr. Bart van de Ven will come and sit next to you. He will share his ideas with you on what could be done to change what you don't like about your face, and which procedures he thinks are necessary to produce a feminine and beautiful result.
While you hold a mirror, he will show you what would happen during surgery exactly, where incisions will be made etc.
At any given time you are free to ask Dr. Bart any questions you might have. Your feedback is absolutely welcome and even necessary to clear up any misunderstandings and avoid future disappointments!
So don't be afraid to tell the doctor when you don't agree, or when you have something else in mind. Be vocal about your priorities and about how you see things. Your input will always be considered, and together you will come to a conclusion that is in your best interest.
4 Cost calculation and discussion
After discussing the procedures, Dr. Bart van de Ven will calculate the price of your FFS. If this price is above your budget, you can ask for a second proposal containing only the procedures you and he deem most necessary. This proposal will then be printed out for you to take home.
5 Taking pictures for your simulation
After having discussed the procedures and price, Dr. Bart will take clinical pictures of your face so he can make a simulation of your possible Facial Feminization Surgery result. Please take these instructions into account, so we can make proper high-quality pictures on your consultation day:
Make-up—Try to avoid a heavy make-up so Dr Bart van de Ven can make a good assessment of your natural facial features. Light make-up is no problem.
Facial hair—If you are still bothered by facial hair, it is best to remove it before you make the pictures. With facial hair, a good simulation of results is not possible.
6 You will receive your digital proposal and simulation immediately
After your consultation, you will immediately be sent an e-mail containing your price quote and procedure plan. Within 48 hours you will also receive your FFS simulation.
7 What if I forget to ask something important?
Not to worry! In case you've forgotten to mention or ask something, you may always contact our patient coordinator at info@2passclinic.com. We will help you as soon as possible.
Frequently asked questions
Which language does the FFS surgeon speak?

Dr Bart van de Ven speaks Dutch, English and German!

Would it be ok to arrive at my consultation in male mode?

That is absolutely no problem.

Do I need to remove facial hair when coming to my FFS consultation?

Yes, it is highly recommended to remove all facial hair on the day of the consultation (shaving). Dr Bart van de Ven will take pictures of your face so he can make a simulation of what your face could look like after Facial Feminization Surgery. This isn't possible when there is facial hair.

Can I wear make-up during the consultation?

It is no problem to come with light make-up to the consultation. Try not to make it too heavy so Dr Bart van de Ven can make a good assessment of your natural facial features.

Do I need a Paypal account to be able to pay with Paypal?

You don't need a Paypal account to be able to pay with Paypal. Just click on the bottom link below the Paypal window saying "Pay with Debit or Credit Card" (see screenshot below).

More than 2 years ago I received a proposal from you which has now expired. Do you want me to send new pictures?

As we try to improve our techniques all the time we would like to make a new proposal. Ideally, this is done during a consultation in person. If this is not possible, please send your pictures as explained here, preferably without make-up.

Will it be possible to make a professional proposal based on pictures of the face only?

We prefer a face to face consultation if reasonably possible. Being able to touch the face is better to properly analyze it. In most cases though, good pictures -as described here- will give the doctor enough information to make a professional proposal. If necessary, the proposal can be slightly adjusted the day before surgery during the preoperative consultation.

If I pay 50 euro for a proposal based on pictures do I have to pay for a first consultation as well?

Yes, the consultation fee has to be paid too.

Where is 2pass Clinic situated?

We are situated in Antwerp, Belgium! You can easily reach us by plane, train, bus,… you name it!
We are doing our very best to keep this information up-to-date. In case you see anything that no longer seems accurate, or in case you have a question, please fill out the form below!