Breast augmentation
Breasts have always been a symbol of femininity. Women naturally have larger breasts than men due to the large amount of the hormone estrogen in their bodies. Bigger breasts can give your self-confidence a boost and can bring you a step closer to your true identity. So it's not all that surprising that breast augmentation is an important part of body feminization surgery and your transition from male to female (MtF).
Transgender women vs genetic women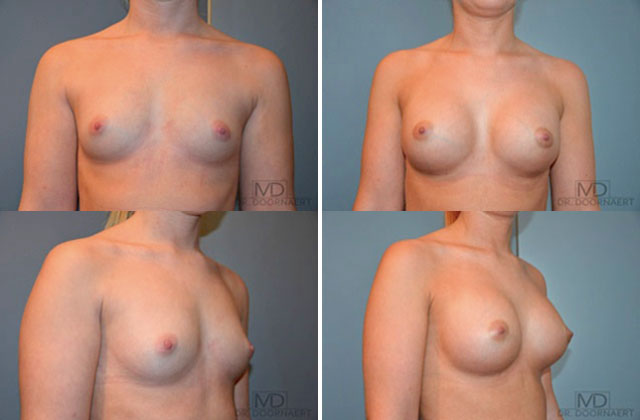 An MtF breast enlargement can be an important step in your transition from male to female. It can make you feel more feminine and more attractive. Many people choose to undergo MtF breast augmentation because it makes them feel better about themselves, and at home in their own bodies.
Differences between the breasts of a trans woman and a genetic woman:
A trans woman's chest is naturally broader. To create a beautifully proportioned body, a trans woman may want a larger cup size.
A trans woman has thicker chest muscles and the skin around her breasts is tighter. This makes it more difficult to insert large implants.
The differences mentioned above are actually quite small, and you don't need to worry too much about them. Our surgeon has many years of experience in body feminization surgery for transgender women. He knows exactly what your body needs. For example, you don't have to worry that your skin won't stretch enough for the implants that are to be inserted. Even if your skin is too tight to insert the implants as desired, we have a number of solutions to help you:
We could insert smaller implants first so that your skin can adapt and can stretch gradually. At a later date, we would then carry out a second operation to insert larger implants.
It is also possible to work with a tissue expander. The tissue expander is inserted into the chest and gradually filled up – using injections – with salt water. That way, your skin gradually stretches out.
A third option is to use your own fat tissue. In such cases, Dr Doornaert performs liposuction and injects the fat tissue into your breasts. This procedure takes place in several steps so that your skin has enough time to stretch.

Female breast tissue vs. male breast tissue

In reality, there's not much of a difference between a breast augmentation for a trans woman and a genetic woman, primarily because a genetic man's breast tissue isn't that much different from a woman's. One of the main differences is that genetic women have more fat tissue in their breasts than transgender women. But if you undergo female hormone therapy, this fat tissue can build up quite well. On average, transgender women can develop an A-cup this way. We use our expert knowledge to guide you through this entire process. Although the differences between the surgery for a trans woman and a genetic woman are rather small, we suggest you choose a surgeon who specializes in surgery for transgender women. Personalized advice and professional support are key during this process.
Implants or fat grafting?
MtF breast implants
For young transgender women, it's usually easier to create extra fatty tissue in the breasts using female hormone therapy. Some trans women can generally develop an A-cup this way. But unfortunately, HRT doesn't work the same way for everyone. Especially for transgender women over the age of 35, it is more difficult to develop breasts without surgery. In such cases, MtF breast augmentation with implants is a better solution. You are more or less free to choose which implants you want. But we also take into account the amount of breast tissue and skin you have, the size of your chest and the extent to which your breasts hang or sag.
Do you want a rough or smooth shell?
What size do you want?
Do you want saline or silicone implants?
What shape do you want? Round or teardrop?
What kind of profile do you want? Low–medium–high–full–oval–full height?
What volume do you want?
An implant can be placed in front or behind your chest muscle. When assessing where to insert the implant, we take into account your figure and the amount of breast tissue, fat tissue and mammary gland tissue. After your first consultation with Dr Doornaert, we will know which is the best option for you.
Liposculpture or fat grafting
Another way to perform MtF breast augmentation is to transplant your own fat tissue. You first undergo liposuction to remove fat from other parts of your body, such as the abdomen, hips or thighs. The fat cells are then injected into your breasts. This method doesn't leave any scars. However, liposculpture isn't suitable for all trans women. In such cases, you will have a personal consultation with Dr Doornaert to discuss which is the best option for you.
The cost of MtF breast augmentation for transgender women
How much the surgery costs depends on a number of factors. After the initial consultation, Dr Doornaert can give you an indication of how much your MtF breast augmentation surgery will cost. Do you live abroad and is it difficult to get to an initial consultation in Antwerp or London? Then you can book a consultation via Skype!
Frequently asked questions
Can I get this surgery if I'm a cis woman?

Yes, of course. We perform Facial Feminization Surgery on all women. Every woman is welcome at our clinic!

How long should I wait when I am on HRT before I get a breast augmentation?

Body Feminization surgeon Dr Maarten Doornaert would recommend waiting about 16 months.

Can I have large (extravagant) breast implants?

It is possible to get large breast implants even if you don't have any breast tissue to work with!

Is it possible to inject a few ml of fat in the face while getting lipofilling of the breast, hip or butt area?

Can I combine facial surgery and breast surgery?

Breast and facial surgery can be combined in the same week, not on the same day. . In that case, the operation of Dr van de Ven should take place on Thursday, the breast augmentation on Tuesday. Be aware you should be in Antwerp for the preoperative consultation on Monday around noon in this case.
We are doing our very best to keep this information up-to-date. In case you see anything that no longer seems accurate, or in case you have a question, please fill out the form below!