Thread lift
Skin laxity is considered one of the main causes of facial and body ageing. There are surgical options to counteract this, although they are quite invasive and involve certain risks. Fortunately, there are non-surgical and less invasive techniques to tighten and lift the skin, such as the thread lift technique - also called a feather lift.
What is a thread lift?
A thread lift is a non-surgical procedure in which polydioxanone threads (PDO) (= absorbable sutures with barbs) are used to give, for example, the face, neck or cleavage a tighter and more youthful appearance. Under local anaesthesia, the specific threads are placed under the skin in order to pull up the various underlying tissues. This gives a lifting, tightening and smoothing effect.
PDO threads are completely biodegradable. Depending on the thickness of the thread, it remains in the skin between three and nine months. From the moment the thread is put into place until it is dissolved, the skin produces its own collagen in the place where the PDO thread is located. This rejuvenates and firms the skin.
Because the PDO threads are dissolvable and no incisions have to be made, it is a quick and safe technique that also provides immediately visible results.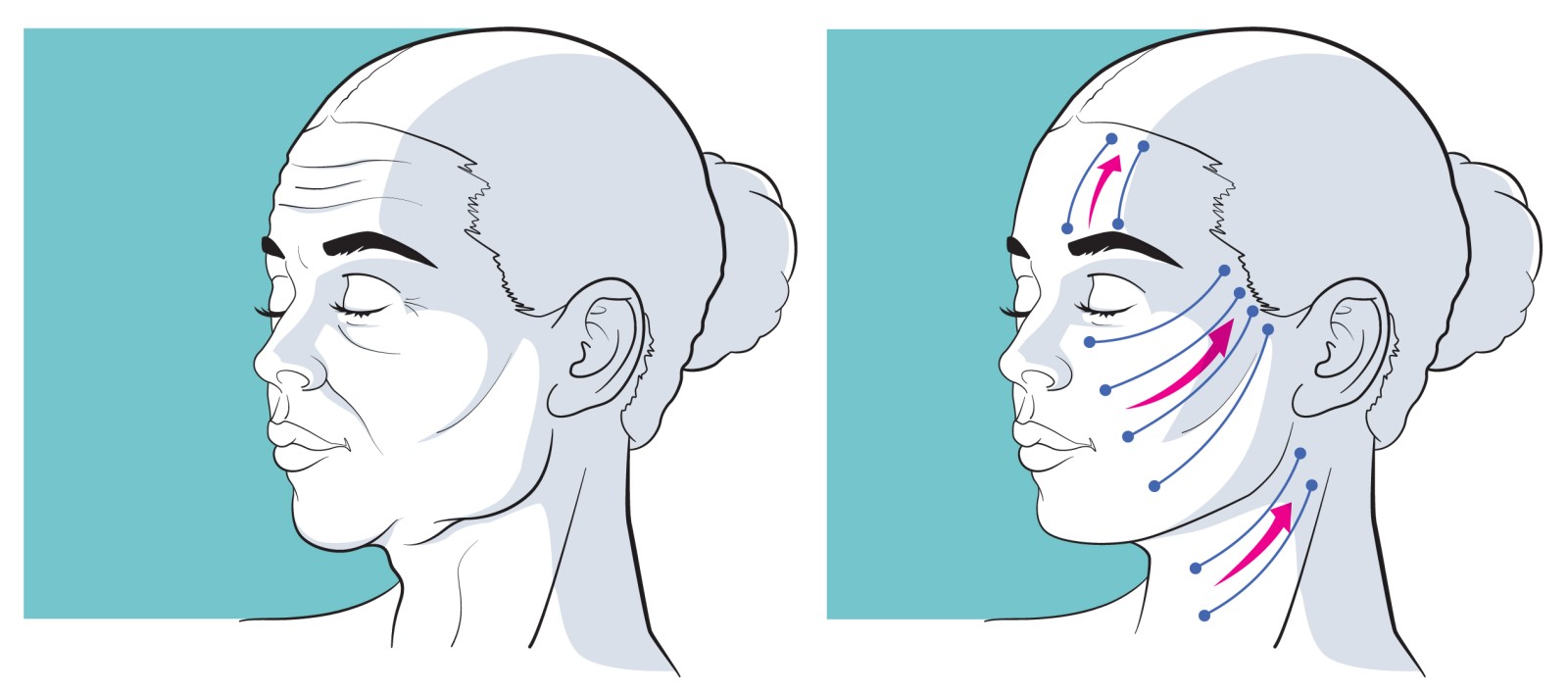 Who is a suitable candidate for a thread lift?
Anyone who is not up for a facelift but still wants to address the following issues:
General lifting and smoothing of the face, neck or cleavage area
Marionette lines, deep nasolabial folds and wrinkles
Drooping cheeks or jowls
A sad or tired look due to sagging cheekbones or eyebrows
Even skin laxity in the legs, arms or abdomen
How does a thread lift work?
After a consult with our aesthetic doctor, your treatment plan will be drawn up. You will be asked to sign an informed consent form.
The area that is to be treated is locally anaesthetised so that you can be treated in comfort.
The PDO wires are inserted under the skin using a cannula. This does not cause any scars. The threads contain tiny hooks and attach to the skin.
The treatment takes about 30 to 60 minutes, depending on the number of threads that need to be placed.
Advantages
Tightening and lifting effect with immediate results
Mainly suitable for the face, neck and cleavage area
No incisions are required so there is no scarring.
You can immediately continue your social activities after the treatment.
You'll experience virtually no pain after the treatment.
Very few risks when it comes to complications
Fast healing process
Beneficial effect on the production of new collagen in the skin
Possible disadvantages, complications or side effects
Bruising in the areas that have been numbed.
Local swelling or a small haematoma as a result of the placement of the PDO threads. This disappears after 2 to 3 weeks.
Small irregularities on the skin. This can be caused by small haematomas or by uneven traction of a thread. This can be easily resolved by your medical aesthetic practitioner.
The feeling of traction or tingling in the skin for a few weeks.
Very exceptionally, infection (redness, pain, warmth) may occur. Please contact your medical aesthetic practitioner for further advice.
The result is not permanent.
How long do the results last?
The PDO threads will dissolve completely in 6 to 9 months. The visible effect of a treatment with PDO threads varies between 12 and 18 months.
Book a consult with Dr. Hein Knapen
We are doing our very best to keep this information up-to-date. In case you see anything that no longer seems accurate, or in case you have a question, please fill out the form below!