Is electrolysis hair removal painful?
Posted December 18th 2018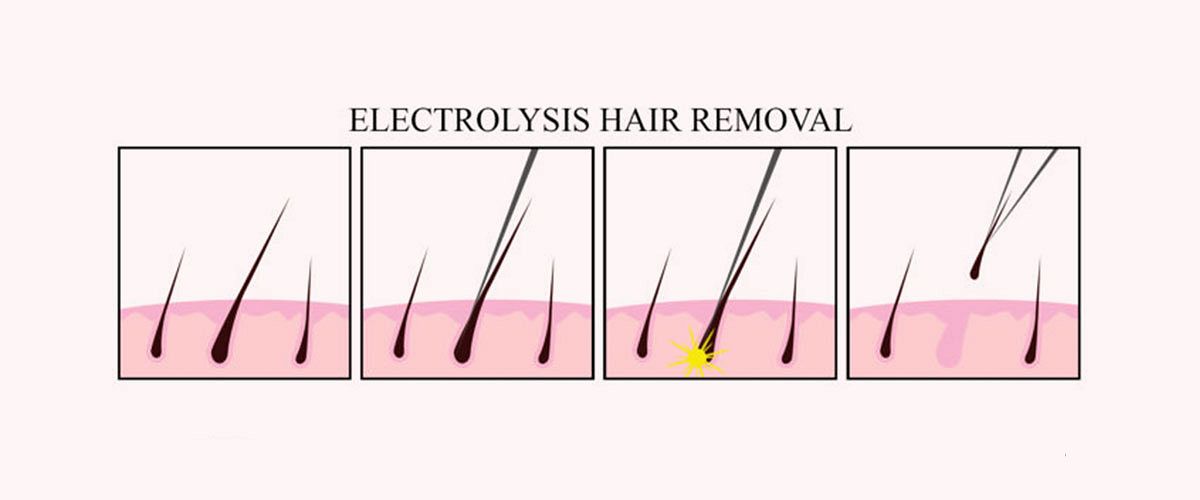 The short answer almost no electrologist dears to give you to give you is: yes it is. Some people can bear it, other's barely.
The longer version you will hear most of the time: Everyone has their own tolerance to pain. Descriptions of the discomfort vary from "no worse than a mosquito bite," to "like having a rubber band snapped against my bare skin hard." Electrolysis can give a stinging and pricking sensation, and each hair has to go through it.
Not every area is equal
The degree of pain is also relative to the area of treatment. Certain spots, such as the upper lip, are known to be more sensitive than spots like the brows.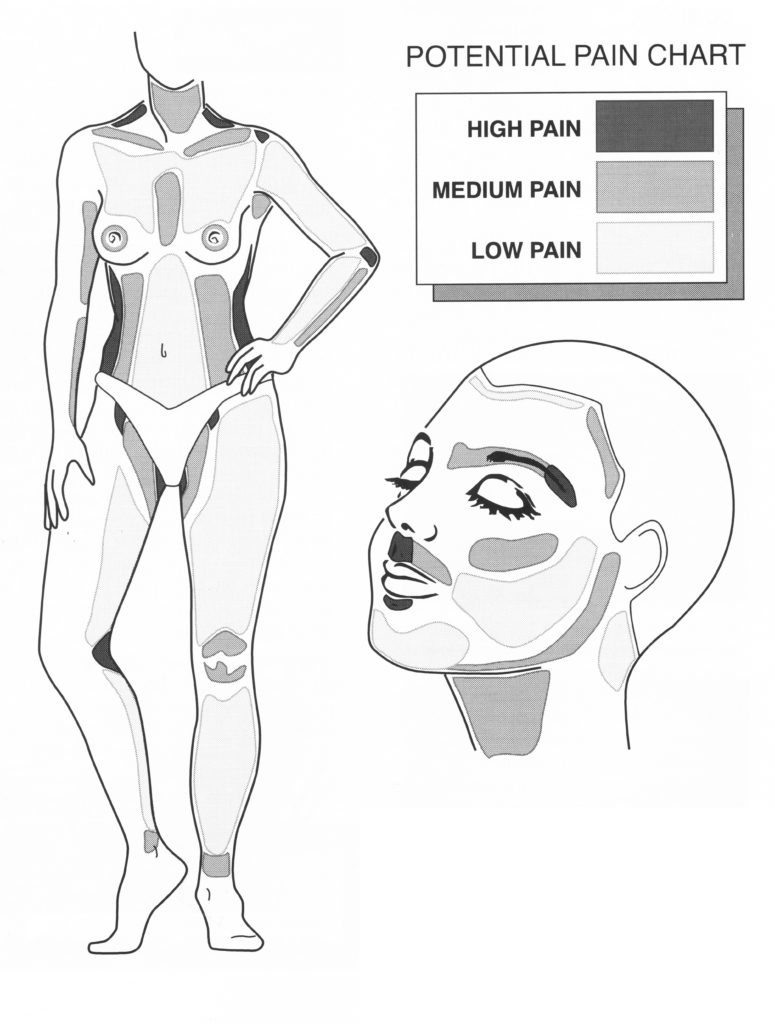 Body and facial pain chart (illustration with permission from the fantastic book of Michael Bono "Treatment Strategy for Electrology", 2011.
'A painless treatment is probably a worthless treatment'
Pain is the single greatest drawback of electrolysis. As the famous electrologist Arthur Hinkel said: 'A painless treatment is probably a worthless treatment'. Happily for you this was before we developed an intensive program with local anesthesia for electrolysis hair removal. This makes intensive marathon electrolysis sessions possible, which before where limited because the patient could only bare 1 to 2 hours at the time.
We can offer this because we are also a clinic, with medical staff in the building at all times.
What is pain and why does electrolysis hurt?
The perception of pain involves far more than mere sensation. The emotional components of pain are often as important as the
production and transmission of the pain signal itself. Pain can thus be viewed as merely a ''signal'' that something is wrong somewhere in the body, until it reaches the emotional brain, where this signal becomes what we feel as pain. The reduction of both the fear and anxiety can not be underestimated as pain relief factors.
Nerves in the skin are sensitive and heat and chemical damage to protect the skin from injury. Electrolysis hair removal must produce enough heat or chemical action to destroy tissue. Nerves convey this sensation to the brain as pain. Therefore, pain is a necessary reality for electrolysis.
Unfortunately hair follicle is the most innervated part of the skin.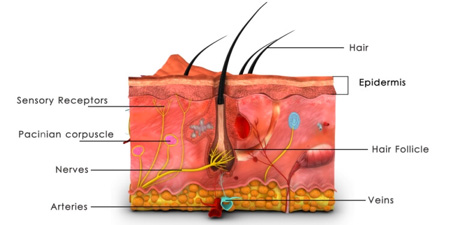 The hair follicle is the most innervated part of the skin. Hence the pain of electrolysis hair removal
What can we do against the pain?
Techniques to reduce pain can be separated into two categories:
Physical agents
Psychological techniques—if you are calm, you will feel less pain. People that are anxious and nervous feel more pain than people who are calm and relaxed. At 2pass Clinic we take great effort to present you a calm and serene atmosphere for your treatment so you feel safe and relaxed.
Physical agents include drugs and anesthetics that diminish pain or completely block nerve impulses locally.
2pass Clinic can offer you one or both of the following agents:
Local anesthesia injected locally to block the nerve endings in the skin.
Numbing cream applied locally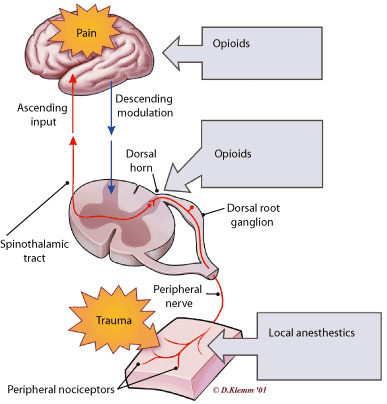 We are doing our very best to keep this information up-to-date. In case you see anything that no longer seems accurate, or in case you have a question, please fill out the form below!