5 things you need to consider before undergoing hairline lowering surgery
Posted April 9th 2021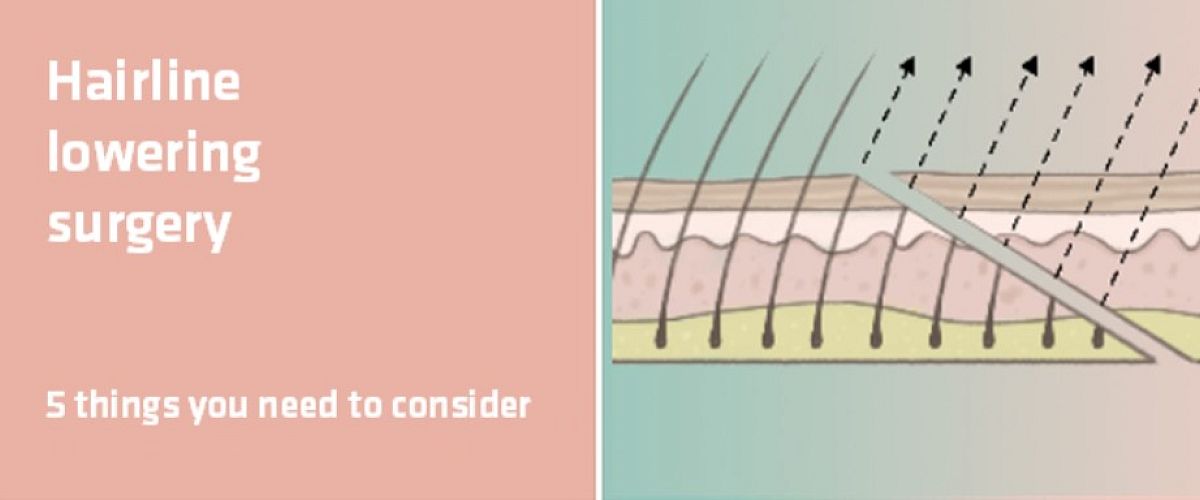 Can hairline lowering surgery help to feminize my hairline?
Hairline lowering (also called a scalp advancement or forehead reduction) is a surgical technique that allows patients to have their frontal hairline advanced certain distances depending on variables such as pre-operative hairline height, scalp laxity and patient preference. Usually, the 'normal' attractive female hairline midpoint is usually 6 – 6.5 cm above a point between the eyebrows and has a round, inverted U-shape.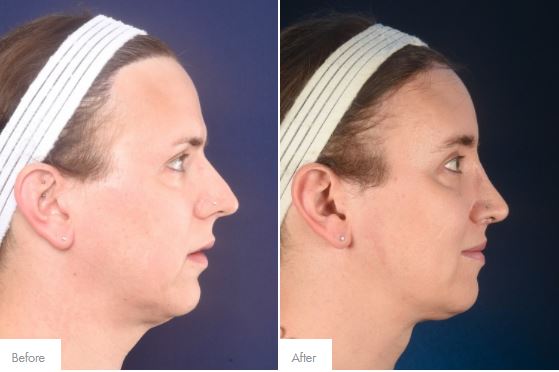 What to choose: hairline lowering surgery or a hair transplant?
Both procedures can help to contour or to create a lower or rounder hairline. It all depends on how far you want to advance the hairline and the flexibility of your scalp. These are the options:
Hair transplants

Ideal for receding temples or an M-shaped hairline.
Usually, 2 sessions are needed to get a natural looking result (which requires 50 to 60 hairs per cm²). Per session, we can implant a maximum of 40 hairs per cm².
No surgical cut needed.
Ideal to cover up or blend in a scar after hairline lowering surgery.
You can choose between the FUE method with shaving the extraction site (e.g. the back of the head) or the FUE method without shaving the extraction site. The latter method is suitable for smaller areas.

Surgical hairline lowering (stage one)

Ideal when the scalp is flexible and the skin can be advanced without causing tension on the wound.
The perfect addition to remove excess skin after having frontal bossing or a brow bone reduction done.

Surgical hairline lowering (stage two)

Suitable for large advancements up to 8cm.
This procedures uses a balloon (= tissue expander) which is implanted underneath the skin at the back of the head. The device is gradually inflated with salt-water over a period of weeks, causing the skin to expand and grow new skin cells. This new skin allows for the tension-free removal of the non-hair-bearing skin to lower the hairline.
If the flexibility of the scalp won't allow a hairline lowering procedure in one stage. Nevertheless, a certain amount of elasticity is necessary, otherwise it will not work.

How low can I go?
Normally, an advancement of 1 to 1.5 cm can be achieved with a hairline lowering procedure. When combining it with a tissue expander, it can even be up to 8 cm. It all depends on your preoperative hairline height, scalp laxity and your preference.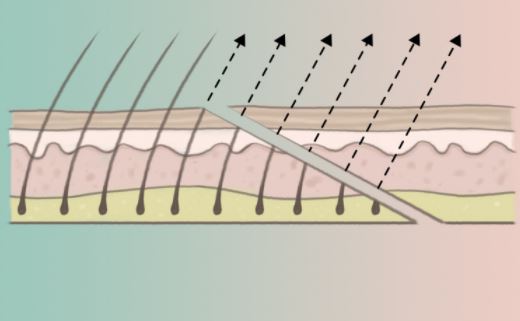 When will I make a full recovery?
Full recovery is to be expected after 12 to 18 months when the scar will have reached its full maturity. There will be a visible scar, but it is usually too faint to even notice after one year. A hair transplant can help to blend it in or cover it up.
What are the possible complications?
Temporary hair thinningor hair loss— This can be caused by a reduced blood supply due to the incision and the tension along the hairline.
Scar — Sometimes the tension on the incision can cause a visible scar. In that case, a scar revision surgery has to be performed.
Diminished scalp sensation or numbness — This happens because the soft tissue is detached from the bony area. Up to 18 months of recovery time is not unusual, but it usually takes less time. You might not regain the same level of feeling as before.
Infection(e.g. staphylococcus aureus) — With hairline lowering surgery, it can be extra tricky to keep the surgical area clean and sterile during aftercare. Tiny hairs can grow inward into or below the skin which can cause irritation or infection.
We are doing our very best to keep this information up-to-date. In case you see anything that no longer seems accurate, or in case you have a question, please fill out the form below!