5 questions you should not ask transgender people
Posted October 22nd 2020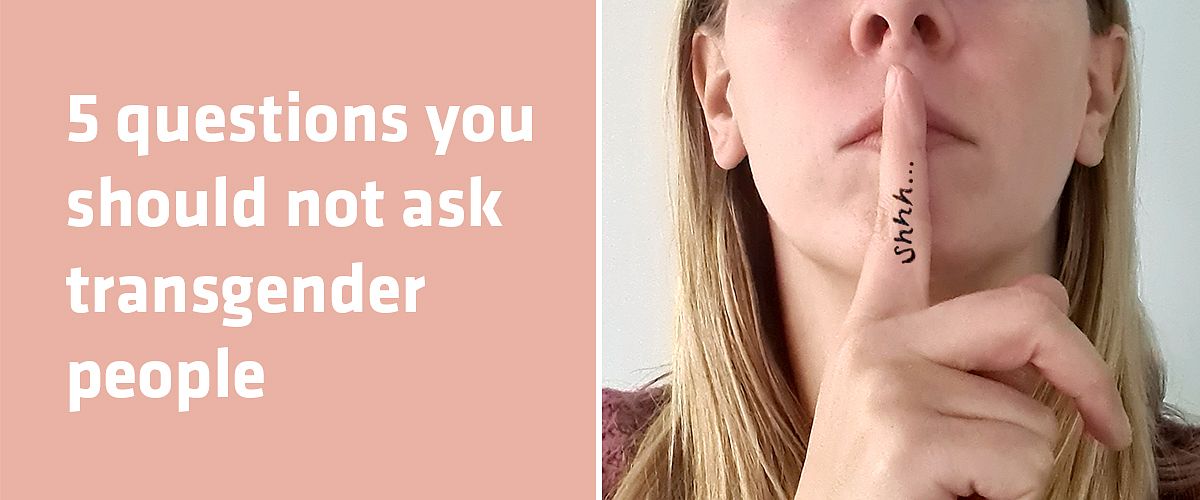 Curiosity or interest makes people ask the weirdest questions. On the one hand, it can be a positive thing, but there are also things that are just not appropriate to ask a trans person. Therefore it is important to ask ourselves on a regular basis (especially cisgender people): 'Are we crossing any boundaries?
Here are 5 questions trans people can really do without or that should be asked cautiously!
'So tell me...'
1. 'Wow, you already look like a "real" woman...'
Often given as a well-meant compliment, but masculinity and femininity are social constructions in the end. This is a personal thing for everyone.
2. 'Have you had THE surgery? So you're still technically a …..? Are you a full … yet? Did you do all the surgeries you wanted to do?'
Asking about these surgeries or treatments is VERY private. Not every transgender person decides or feels the need to have surgery and you don't ask a stranger what he or she has 'down there'.
3. 'When did you decide you were transgender?'
You don't decide something like that. At some point you feel that you were born into the wrong body. In some people this awareness comes early in childhood and in others, later in life.
4. 'Do you like men or women?'
Many people automatically link gender dysphoria to sexual orientation. However, the two things are independent of each other. Any transgender person can be heterosexual, homosexual or bisexual. So it's not an straightforward, casual question to ask (unless you want to go on a date with them, of course!).
5. 'Do you think you'll regret this?'
Trans people don't decide to have gender dysphoria. They are born with it. This is something they have and is not 'a phase'. They can decide to stop the treatment, but that doesn't take away gender dysphoria.
How to respond?
You might get fed up explaining yourself of finding to the patience to answer these questions over and over again. And that's fine. You don't owe anyone an explanation or information.
If you do – it is the perfect opportunity to educate and inform people. It is an chance to set your boundaries, explain why certain questions are not done and how people can educate themselves or can help to create a safe space for everyone.
And remember...
You are:
A woman
A human being
A neighbour
A voter
A loved one
A daughter
...
Someone who deserves the same rights and happiness as everyone else!
This post was inspired social media posts made by Jessica Blackler, a Welsh makeup artist and founder of @jeccablac genderless cosmetics.
We are doing our very best to keep this information up-to-date. In case you see anything that no longer seems accurate, or in case you have a question, please fill out the form below!