Kincorrectie (genioplastiek)
Er kunnen grote verschillen bestaan tussen de kin van een man en die van een vrouw. Daardoor kan deze zeer belangrijk zijn bij genderherkenning. Een kincorrectie wordt vaak uitgevoerd in combinatie met een verkleining van de kaakhoek. 
Wat maakt een kin mannelijk of vrouwelijk?
De vrouwelijke kin loopt meestal in een punt naar het midden van de kin toe. Bij mannen loopt de kin eerder in twee punten uit (onder de hoektanden) met een plat gedeelte ertussen. Hierdoor is de kin van een man vaak voller en meer vierkant. Die van een vrouw is eerder spits. 
Bij de man is de kin verticaal gezien vaak ook hoger, met meer ruimte tussen de onderlip en de basis van de kin.
In sommige gevallen heeft een man een verticale vouw in het midden, meestal bekend als een 'gespleten kin'. Dit valt nagenoeg niet voor bij vrouwen.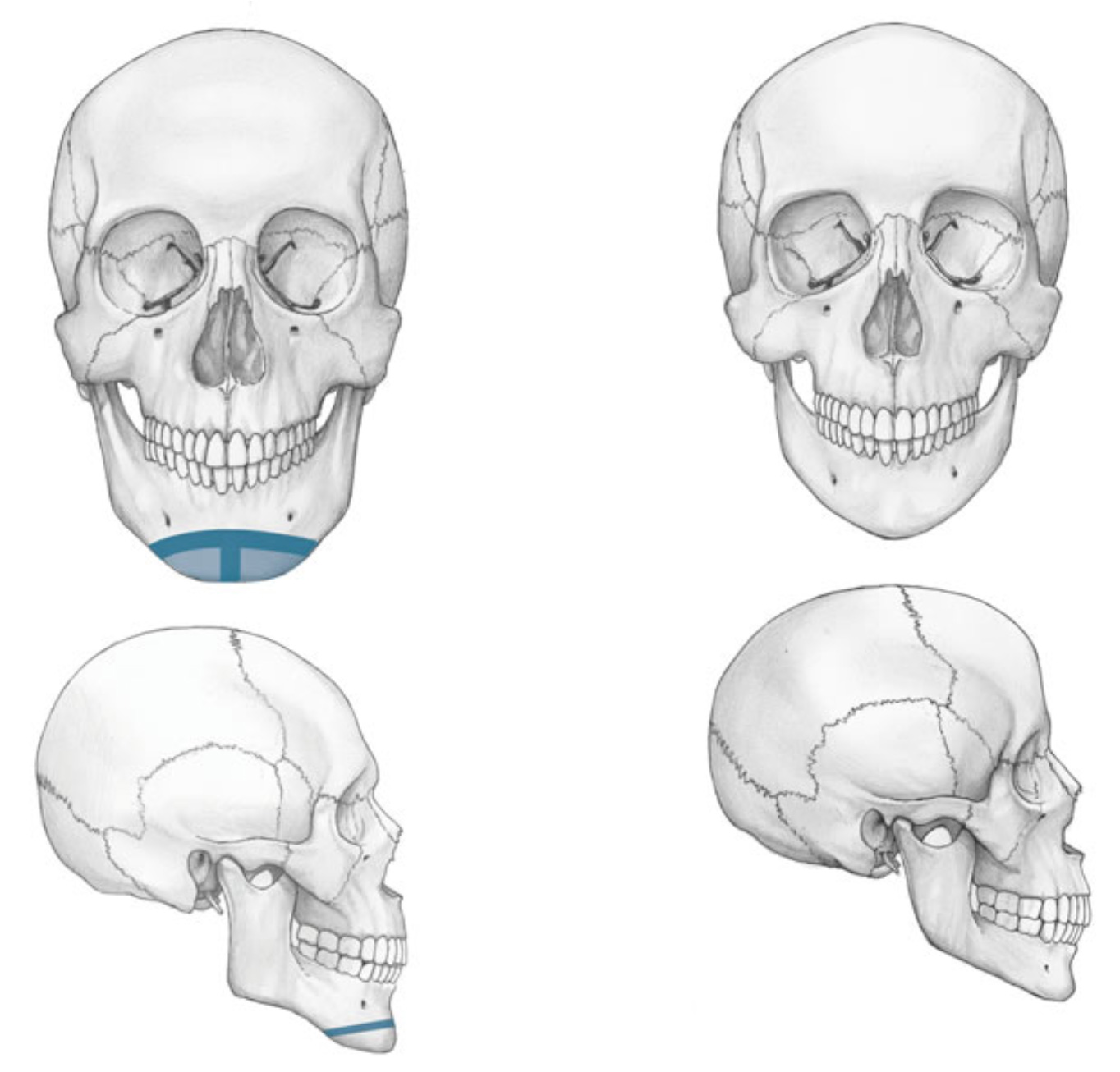 | | |
| --- | --- |
| Mannelijke kin | Vrouwelijke kin |
Kin en gezichtsharmonie
Hoewel de smaken verschillen, zijn er een aantal richtlijnen met betrekking tot de kenmerken van een esthetisch aantrekkelijk gezicht. In profielaanzicht moet het gezicht een lichte mate van convexiteit hebben. Hiermee bedoelen we dat het een specifieke hoek moet hebben.
Het profiel van een patiënt kan aanzienlijk veranderd worden met een genioplastiek. Dit heeft op zijn beurt een aanzienlijk effect op de harmonie van het hele gezicht.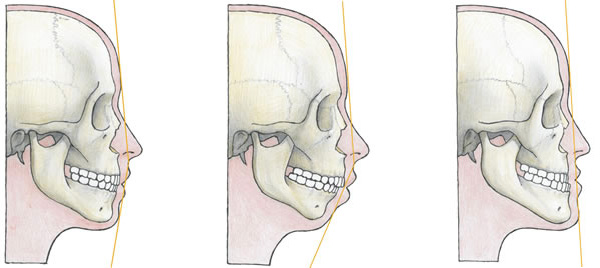 Ideale gezichtshoek (links) - Gezichtshoek te klein (midden) - Gezichtshoek te prominent aanwezig (rechts) 
De kin vervrouwelijken
Gelukkig is de kin een gedeelte van het gezicht waarvan alle kenmerken kunnen worden aangepast: hoogte, breedte en indien nodig zelfs projectie. Afhankelijk van de individuele anatomie van de patiënt en het gewenste resultaat is het mogelijk om verschillende aanpassingen uit te voeren. Deze kincorrectie wordt een "glijdende genioplastiek" genoemd.
Procedure
Algemene verdoving.
Incisies—Alle incisies worden intra-oraal gemaakt, zodat er geen littekens zichtbaar zijn aan de buitenkant.
Zagen-Met een zaag wordt de kin aan beide zijden doorgezaagd van achteren naar voren. Hierbij wordt een stuk bot in de vorm van een hoefijzer van de kin losgemaakt. 
Hoogteverkleining—Een tweede snede kan parallel aan en enkele millimeters verwijderd van de eerste snede worden gemaakt. Vervolgens kan een stukje bot verwijderd worden. 
Versmalling—Het middelste deel van het hoefijzervormige stukje bot kan worden verwijderd om de kin puntiger te maken.
Kin meer naar voren of naar achteren—De uiteindelijke positie van het stuk bot wordt gekozen. De kin kan naar voren of naar achteren worden bewogen.
Bevestiging—De stukjes bot worden gefixeerd met behulp van titanium miniplaatjes en schroeven, die nooit zullen worden verwijderd.
Hechting—De wond wordt gesloten met oplosbare hechtingen.
Herstel
Verbijf—De meeste patiënten zullen na hun operatie een nacht in de kliniek verblijven.
Compressieverband—Een drukverband zal over de kin worden aangebracht om bloeduitstortingen te verminderen. Het kan de volgende dag worden verwijderd.
Zwelling—De zwelling is vergelijkbaar met de zwelling na een kaakoperatie.
Gevoelloosheid—De meeste patiënten ervaren tijdelijke gevoelloosheid.
Werk en sport—Als u het niet erg vindt om gezien te worden met de zwelling, kunt u eventueel 7 tot 10 dagen na de operatie uw sociale activiteiten voortzetten. Pas na 3 tot 4 weken mag u sporten of zwaarder fysiek werk doen.
Complicaties
Infectie—Infecties zijn mogelijk maar zeldzaam.
Gevoelloosheid—Gedeeltelijke gevoelloosheid van een deel van de kaak door zenuwbeschadiging (is zeldzaam maar mogelijk).
Asymmetrie—Hoewel de chirurg de gebieden die hij gaat opereren zeer zorgvuldig markeert, kunnen er asymmetrieën zijn. Deze kunnen altijd achteraf worden gecorrigeerd.
Frequently asked questions
What does this procedure cost?

What happens if there are complications after the procedure and is this covered?

We will correct the complication if surgically possible, without charging any surgical fees. Hospital, material and traveling costs are for the expense of the patient.

Can I get this surgery if I'm a cis woman?

Yes, of course. We perform Facial Feminization Surgery on all women. Every woman is welcome at our clinic!

How long does it take for the final result to be visible and the bruises to disappear completely?

Recovery looks different for every patient, but bruising usually disappears after two to four weeks. The final result can be visible after a few months, but it may also take longer than a year. All information on recovering from FFS can be found on our recovery page.

What happens with the stitches in my mouth?

They dissolve on their own in 5–7 weeks. They don't have to be removed. If they would still be in your mouth after 7 weeks, you can easily remove them just by pulling on them, as they will immediately break due to the fact they will be mostly dissolved already.

When can I go back to a tanning bed after a chin and/or jaw recontouring

When all bruises have completely disappeared, after about 3 weeks approximately.

Can a chinplasty or jaw recountouring be performed when you have dental implants in that region?

Dental implants normally have a maximum length of 14mm. Natural teeth are longer. That's why dental implants never create problems during a chinplasty or jaw recontouring.

Can dental implants still be inserted after a recontouring of jaw and chin?

The removal of bone will be done at the lower border of the jaw, far away from the teeth. So dental implants can be inserted after just as before.

Will I be able to eat?

If you haven't had any treatment involving your teeth, a sliding genioplasty or orthognathic surgery, you'll be able to eat normally quite soon. Due to the effects of general anesthesia, you should only feel nausea for the first few hours. You may prefer to eat softer or pureed foods initially if you have intra-oral sutures. Our catering service provides foods that are easy to ingest, to help you with that. After a sliding genioplasty, you should be very careful not to put too much force on the lower jaw e.g. by eating raw meat (steak) or by biting an apple. This should be avoided. The jaw is really weak in the chin area and it will take about 6 weeks until it has regained its original strength.

How many mm can the chin be put forward?

The maximum amount a chin can be put forward is about 10-12mm. But if you need this much, it's probably the whole underjaw that is too far back, and you probably need orthognathic surgery.

With a chin height reduction is there significant sagging of the skin around the chin?

Of course there will be relatively more skin around the chin after a bony reduction of the chin. A hanging chin can however be avoided by meticulous suturing of the muscles of the chin and by wearing the facemask (for 3 weeks) that Dr van de Ven will provide you with after the surgery. The facemask gives strong upward support to the chin. If in spite of these measures, the skin is still sagging around the jaw and chin (this happens mostly in older patients with less elastic skin) one of the 3 types of facelifts that Dr van de Ven performs can bring the solution.

If I get a chin reduction, what will happen to the muscles? Will they be detached and repositioned?

The muscles on the outside of the chin will be detached before the chin bone reduction. After the surgery, the face mask that you will wear will push the muscles right back in position so they heal back to the bone.

Is it possible for the lower lip to move upwards after a chin height reduction? Does the smile change?

Yes, if you reduce the height of the chin and you suture the muscle well, the lower lip moves upwards.

How can I expect the feeling in my chin and lower lip to be after a chinplasty?

After a chinplasty, the feeling in the lower lip and chin is always disturbed. If the mental nerve (that comes out of the jawbone just behind the chin and then runs into the lower lip and skin of the chin) has not been ruptured during the surgery, for sure sensitivity will come back. It is not possible however to predict when and to which extent. Mostly the recovery will take between several weeks and several months but it can take up to even 2 years. It is normal that the sensitivity of the lower lip and chin doesn't recover completely. If the mental nerve has been ruptured (in the hands of Dr Bart van de Ven around 1%) it can be sutured. Of course, the prognosis will then be worse. Damage to the mental nerve will however not be visible to the outside world as it is a 100% sensory nerve. It doesn't contain motor branches so the function of any muscle remains intact.

What about smoking?

As smoking counteracts wound healing we strongly advise against smoking during the 3 weeks before surgery until 3 weeks after surgery. Smoking dramatically increases the risk of skin necrosis and should be avoided at all times.
We doen ons uiterste best om deze informatie up-to-date te houden. Mocht u iets zien wat niet meer klopt, of heeft u een vraag, vul dan het onderstaande formulier in!