Deze pagina is binnenkort beschikbaar in het Nederlands.
Laser hair removal
When you look at a man's or a woman's face, there is one physical feature you notice almost straight away: facial hair. Men often have a lot of it, women usually don't. Even if you shave every day, you'll still have a beard shadow. This can be annoying, especially if you're about to undergo, or have recently undergone, facial feminization surgery. What can you do about it? Permanent hair removal can take you a step closer to your true identity. There are two different ways to remove unwanted hair: electrolysis hair removal and laser hair removal.
Laser hair removal for transgender women
During the treatment, the laser sends a pulse through the hair follicle. The pigment in your hair follicle absorbs this pulse. The resulting heat destroys the hair. The more pigment there is, and so the darker the color of your hair, the more successful the treatment. Your skin shouldn't contain too much pigment, otherwise the skin will become damaged. Laser treatment is therefore more effective for white skin. In addition to your skin tone and hair color, there are two other factors in order to get good results: the length of time the hair follicle is heated by the pulse and the temperature of the pulse. A combination of both factors is needed in order achieve the desired result. If the hair follicle is penetrated by the pulse for the right amount of time and at the right temperature, the hair will be removed.
The same applies for laser hair removal as for electrolysis hair removal: the hair is only removed if it is at the right stage of the growth cycle. This consists of the growth phase, the transitional phase, and the resting phase. It is most effective during the growth phase. The beautician cannot change the growth cycle, so the treatments have to be repeated for those hairs that were not in the right phase.
You can discover the most important information by downloading this Laser hair removal summary.
When will you see results?
The number of treatments required to permanently remove hair differs from person to person and depends on:
The area to be treated.
The pigment of your skin.
The color of your hair.
At 2pass Clinic, we see this treatment as a way to permanently reduce and temporarily remove your hair. With a bit of luck, some of your dark hairs will be permanently removed.
Who can have it done?
The ideal candidate is someone with light skin and dark hair. The less pigment in the skin and the more pigment in the hair, the better. Who is not a good candidate? People with dark skin, tattoos, (light) blonde, red or grey hair. In such cases, we recommend electrolysis hair removal treatment.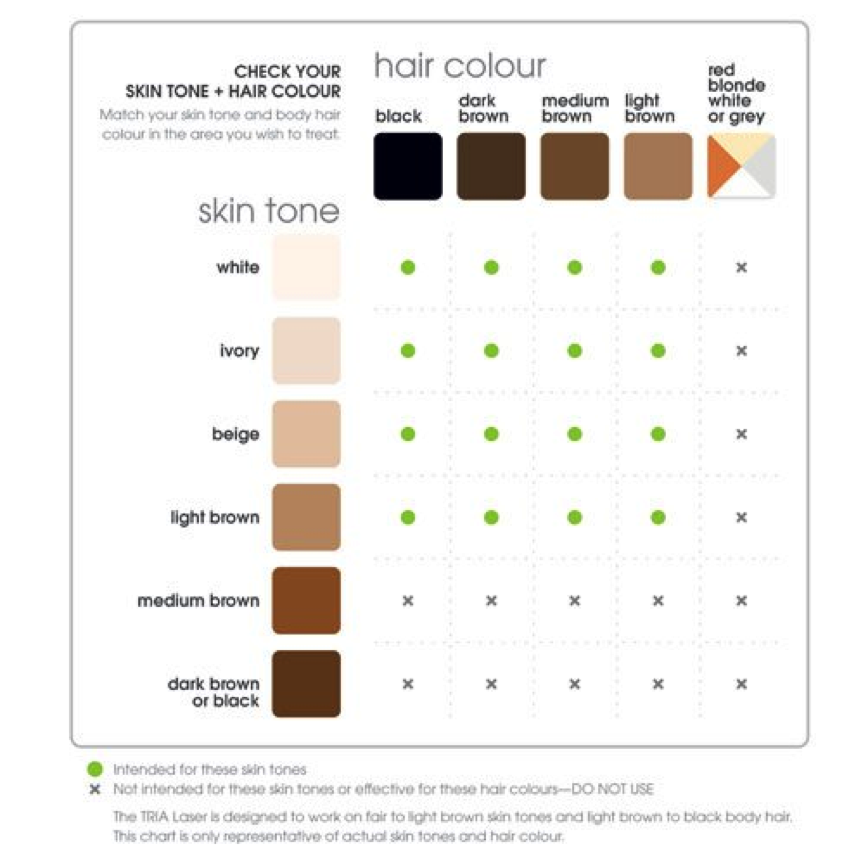 Procedure
At 2pass Clinic, we use a diode laser for your laser hair removal treatment. Each pulse of the laser takes only a fraction of a second but it can target multiple hairs at the same time. Each pulse can cover an area the size of a €1 coin. The major advantage is that it is relatively painless.
How long does it take?
As we already mentioned, this differs from person to person. On average, four to twelve treatments are required to obtain the desired result. A treatment session lasts between 15 minutes and 1.5 hours, depending on the area being treated.
Five to six treatments, with 30-day intervals, so that the skin can recover, is usually enough for small skin surfaces such as your face, forearms or bikini line. Larger surfaces such as the legs, chest, and back require more intensive treatments with six to eight weeks of rest between each session.
Your laser hair removal in three steps
1 Book your treatment
During your first treatment, Evy will look at your skin tone and your hair pigment. During your first consultation, a patch test may be performed if there is doubt about your skin type. Our specialists use the results from this test to adjust the laser settings to suit your skin so that the treatment can be performed safely. They will then draw up a plan that meets your personal needs. So don't remove your facial hair or body hair beforehand to make it easier for them to design your personalized treatment.
2 Your treatment
After the first treatment, you will know what is going to happen and how many treatments you will likely have. Before your first treatment, you should keep in mind the following:
Do not epilate or wax in the three months prior to your treatment.
Shaving, bleaching or trimming the hair isn't a problem.
Avoid exposure to the sun for six weeks before your treatment. Exposure to the sun makes the treatment less effective and increases the chance of subsequent complications (more pigment in the skin).
3 And what happens after your treatment?
On the day of your laser treatment, your skin may be red and swollen. This varies from one person to another and it is temporary. The treated skin surface may be painful. This pain does not last longer than two days. The hair starts to fall out during the days following your laser treatment. After your laser hair removal, you should definitely remember the following:
Your skin may become lighter or darker, which is usually temporary.
In rare cases, treatment may lead to the formation of crusts, blisters, scars or a change in the skin structure.
In some exceptional cases, treated hair may turn grey or hair may start to grow excessively in the area that has been treated.
Do not expose your skin to the sun for six weeks after your treatment.
Frequently asked questions
Is electrolysis better than laser hair removal?

Laser ist weniger effektiv als die Elektrolyse, da er auf das Pigment der Haare abzielt, das nur in der Haarwurzel vorkommt, nicht in der Haarwuchsform, in der sich die Wachstumszellen befinden. Die Schäden am Haar sind so groß, dass sie den Wachstumszyklus für einige Monate verlangsamen, bevor sie wieder auftauchen. Der andere Vorteil der Elektrolyse ist, dass sie für so ziemlich alle Hauttöne und Haarfarben geeignet ist, im Gegensatz zur Laser-Haarentfernung. Zuerst den Laser? Die einfache Regel lautet: Führen Sie zuerst einen Laser durch, wenn Sie dunkles Haar und helle Haut haben. Wenn Sie dunkle Haut oder helle Haare haben, lassen Sie den Laser aus und machen Sie die Elektrolyse von Anfang an.
We doen ons uiterste best om deze informatie up-to-date te houden. Mocht u iets zien wat niet meer klopt, of heeft u een vraag, vul dan het onderstaande formulier in!