Dit artikel is niet beschikbaar in het Nederlands.
3 Key Differences Between Classic and Intensive Electrolysis Hair Removal
Gepost 13 oktober 2017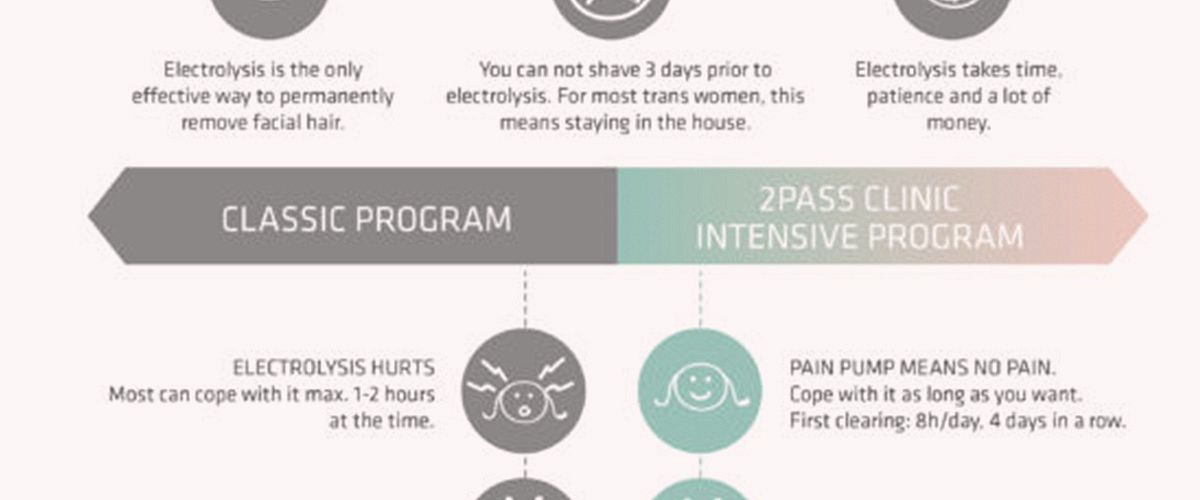 Time-saving, cheaper and no pain: the benefits of the intensive electrolysis hair removal program that we offer at 2pass Clinic are huge, compared to the classic program.
Getting rid of facial hair is a serious problem for most trans women during transition. Laser hair removal can be a great help, but doesn't really do the job. The only proven way to permanently remove facial hair is electrolysis hair removal. The downside of this method is that, if it's done the classic way, it's expensive, time consuming and requires a lot of patience. On top of that, it's also painful. You've got to be really tough to tolerate it for more than two hours in a row.
Another serious issue is that you cannot shave yourself 5 days prior to facial electrolysis and 10 days prior to genital electrolysis. For most transgender women, it means they stay in the house during these days. Many therefore choose to book electrolysis on Mondays, giving up their weekends.
Intensive Electrolysis Hair Removal
The intensive program which we offer at 2pass Clinic diminishes many of these problems. First of all, 2pass Clinic uses local anesthesia, meaning you won't feel any pain. It's much easier to cope with it for a long time, in fact, as long you as you want. So, you can stay at 2pass Clinic and have electrolysis for a full working day! This means, you will achieve results in a much shorter time than with the classic program. You need only four 4-day sessions to get rid of your entire beard shadow, losing only four weekends. Compare this with two years of Monday sessions if you follow the classic approach!
Not only do you lose your beard much quicker with the intensive program (and in a much more comfortable way), you will also save a lot of money. Removing facial hair the classic way would cost you 30,000 euros, spread over two years, while the intensive program achieves the exact same results for only 8,000 euros in six months.
Let's list the key differences. The intensive electrolysis program for clearing of facial hair is
With local anesthesia, meaning: no pain
Faster and more comfortable: six months instead of two years, you lose only four weekends
Much more affordable: no less than 22,000 euros cheaper!
Infographic Classic Program vs. Intensive Program
To make things easy for you, we summarized our comparison in this handy infographic: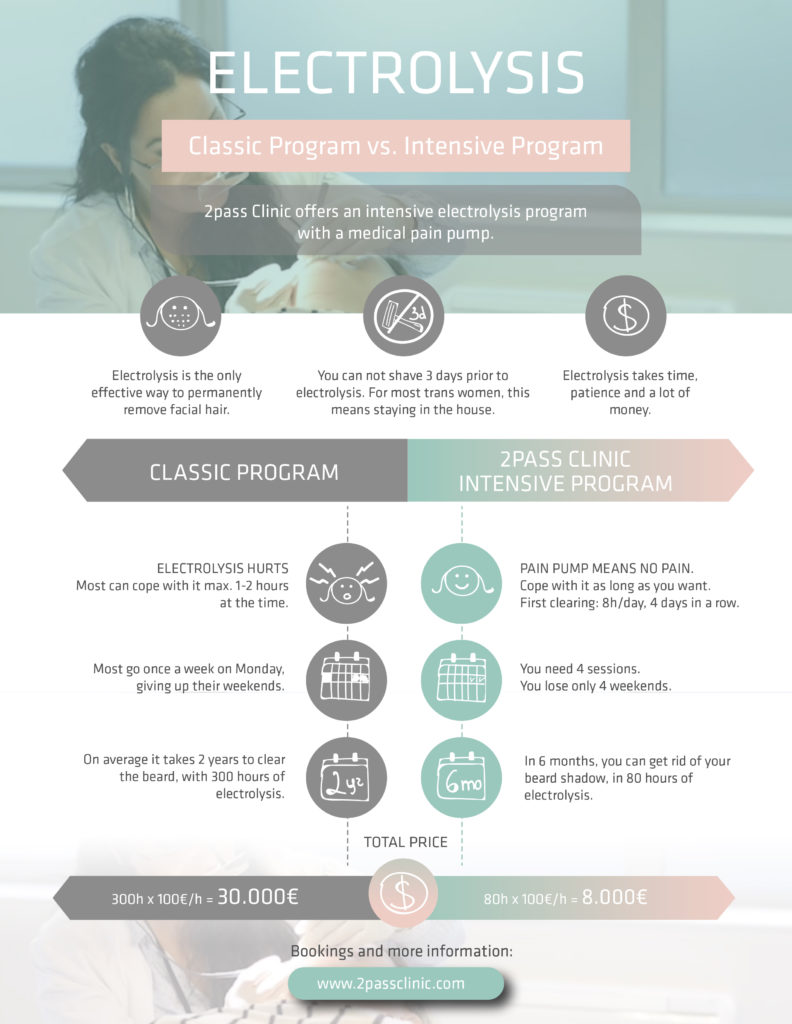 Classic vs. Intensive Program Video
If you rather watch a video than read, here's our comparison in moving images:
We doen ons uiterste best om deze informatie up-to-date te houden. Mocht u iets zien wat niet meer klopt, of heeft u een vraag, vul dan het onderstaande formulier in!