Dit artikel is niet beschikbaar in het Nederlands.
Which FFS Procedures do Transwomen Benefit Most From?
Gepost 25 november 2017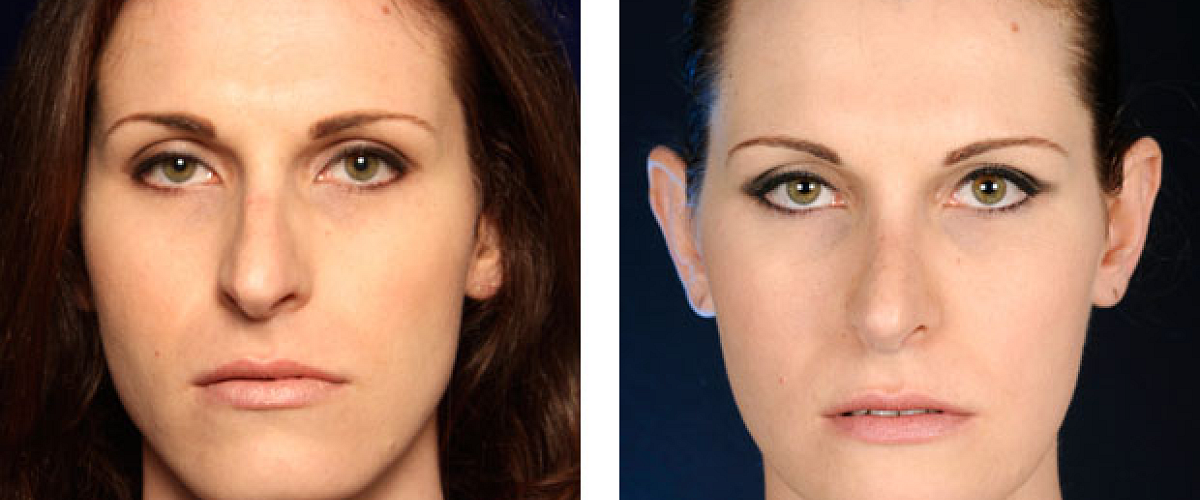 There can be many reasons why you can't or don't wish to have all possible facial feminization surgery procedures done in one go. These reasons can be either financial or social (you don't wish/ can't afford to live fulltime yet), or you prefer to do things step by step so you can get used to your new look overtime.
The list of procedures that we perform to feminize a face are listed below:
Upper face
Brow bone reduction (type 1 and 3)
Hairline lowering surgery
Brow lift
Blepharoplasty (eyelid surgery)
Canthoplasty (lifting outer corner of the eye)
Middle face
Nose feminization (rhinoplasty)
Cheek augmentation (implants or fat)
Earlobe reduction
Lower face
Jaw reduction
Chin recontouring
Lip lift
Tracheal shave
General face
Classic Facelift/ Midfacelift
Chemical skin peel
Lipofilling (fat transfer)
Of course this also depends very much on the person as to which procedures are most useful for her to improve her passing. But there are some things that can be said that are a bit more general when it comes to facial feminization.
A really visible Adam's apple is an absolute give away. If you wish to pass without wearing a scarf fulltime it's the first thing to get rid off.
A masculine forehead can be hidden with a fringe, so in case you don't live in an extremely windy area, don't give it the highest priority.
There are lots of women with big noses that still look very feminine. So a large nose isn't necessarily a big issue. But a very masculine shape of the nose is. So if you have a clear hump or a hanging nose tip, a rhinoplasty should be high on your list.
A lip lift can be a very strong feminiser and is relatively inexpensive. The reason is that with a lip lift you kill three birds with one stone. The upper lip becomes shorter, the upper front teeth become more visible and the outroll of the vermillion will make the vermillion bigger.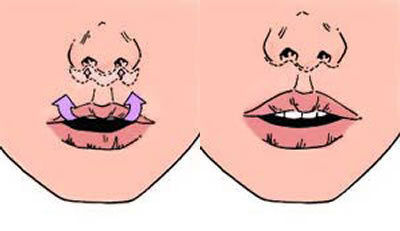 A wide jaw and chin can be very masculine also, especially a wide chin. But there are many women with wide jaws as well and still look feminine. So if you can't have it all, go for the chin.
Women normally don't have a flat midface and lots of men do. Adding volume to the midface either by fat or (custom made) implants can help a lot in improving your passing.
It's inevitable, aging will cause you to lose fat and have saggy skin in your face at some point in time. Some women could even start looking more like their father when they age. Lifting procedures like a facelift, blepharoplasty or forehead lift can be really feminizing. but in most cases shouldn't be at the top of the list.
Doing just part of all procedures that COULD be done to your face really can be an option if you have reasons not to have it all in one go. I would advise you though to consult with an experienced facial feminization surgeon that has a good eye for femininity and ask which are the procedures that would help you the most.
You better have those procedures that are essential for feminizing your face done by a good surgeon than all by a not so good one.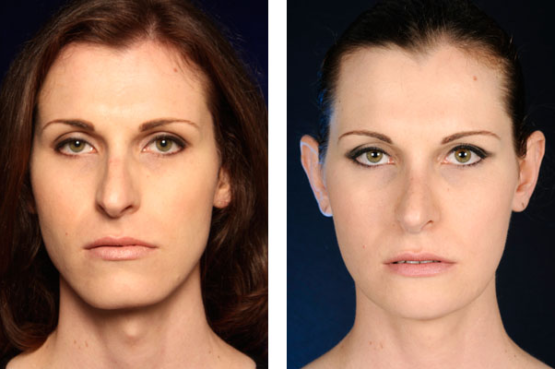 Patient before and after tracheal shave and chin recontouring
We doen ons uiterste best om deze informatie up-to-date te houden. Mocht u iets zien wat niet meer klopt, of heeft u een vraag, vul dan het onderstaande formulier in!